After argument with driver who crashed into his vehicle
Related Links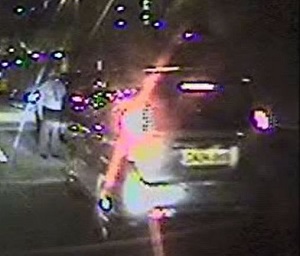 Car thought to be a Suzuki Ignis - registration thought to begin with CA04
Participate
Sign up for our free newsletter
Comment on this story on the
A taxi driver, whose car broke down on the A40 near Hanger Lane, has been badly injured after an argument with another driver who sped away - dragging him into the underpass.
Police say it happened on Thursday 14 November at around 21:15hrs, a 59-year-old taxi driver was driving his black Ford Galaxy people carrier (registration number: LR12 OSG) eastbound along the A40 towards central London.
A short distance befores the Hanger Lane underpass, the taxi hit the central reservation causing one of its tyres to deflate. The driver stopped in lane two and put his hazard lights on.
A car believed to be a silver/grey coloured Suzuki Ignis (registration number believed to start CA04) then collided with the back of the taxi.
An argument began between the two then the driver of the Suzuki decided to leave the scene. The taxi driver attempted to stop him but the Suzuki driver held on to him and accelerated away into the Hanger Lane underpass.
The taxi driver was dragged approximately 200 metres before he fell onto the carriageway a short distance from the exit of the tunnel.
The taxi driver, who is from Luton, was taken to hospital suffering serious injuries. Fortunately they were not life-threatening and he was later discharged from hospital.
Detective Sergeant Cheryl Frost who is leading the investigation for the Road Death Investigation Unit from the North West Traffic Garage said:
"We would like to speak to the driver of this vehicle or anyone, who may have knowledge of the vehicle involved in this collision. We believe that this vehicle will have damage to its front offside headlamp.
"We are also appealing to witnesses to the initial collision or the events after it, who have not yet spoken to police, to contact us."
Any witnesses or anyone with any information that could assist police are asked to call the dedicated witness line on 020 8842 1817 or call Crimestoppers anonymously on 0800 555 111.

26th November 2013