Council seek to reassure residents over proposed closure
The planned redevelopment of Gurnell Leisure Centre could mean closure by the end of this year.
Discussions are currently underway for the site, which the council claim will 'see a state of the art new leisure facility for the borough.'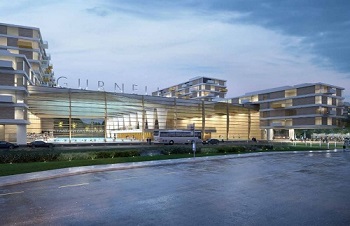 The new centre will be the flagship part of a mixed housing development with around 500 flats to be built by Wilmott Dixon.
There has been criticism about the ambitious plans but Councillor Bassam Mahfouz has defended the decision to bulldoze saying there is no real alternative.
''Repairing the current building would cost over £10m and would only extend its life by a few years.
''A complete redevelopment will bring about a brand new, better leisure centre, retaining a 50m pool and with additional facilities such as a café, climbing wall and a soft play area. The proposed £33m redevelopment will also see much of the funds, if not all, recouped and the new centre will be the pride of Ealing.
''The proposal will also save the council £600k a year in running costs. This is money that we can avoid cutting from other budgets whilst still providing a better service at the new centre.
''As with the redevelopments of Northolt and Acton leisure centres in recent years, this will mean that there is a period of time whilst Gurnell is closed, so we are using our wealth of experience in delivering those successful projects to also work with current users and the Amateur Swimming Association to ensure they have suitable alternatives for learning, competing and leisure, which we have already begun.
''We are well catered for in terms of leisure facilities in Ealing and west London and whilst regular users will go elsewhere for a short period of time, I can assure them all that when the new centre is built, it will be more popular than ever."
Final proposals are now being worked on and subject to planning approval, Gurnell could close from late 2016, but it is expected that it is more likely to be early 2017.
The building works are likely to last between 18-24 months.
February 2nd 2016