Burglary at Ealing's music shop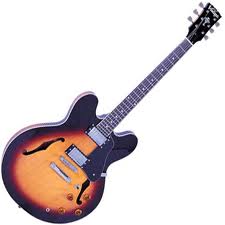 Vintage VSA Squier Affinity
John Gardonyi is appealing for help from the community and asking everyone to keep a look out for two guitars stolen from his shop on St Mary's Road in W5.
He says :''The break in happened at appx 3.30am on Friday 10th September and the burglar got in by smashing a piece of wood through the front door window. I am assured by our glazers that the glass was laminated and the type fitted in all shops. He was seen leaving the shop carrying 2 guitars: Vintage VSA 535 brown sunburst semi acoustic guitar worth around £250 and a Squier Affinity metallic red P-Bass guitar worth around £150.''
Police say a witness called police to Gardonysi's after hearing the alarm - the witness saw the suspect dressed in a cream hoodie and camouflage jacket leave the store with a guitar in each hand.
The suspect was last seen heading towards South Ealing station.
If you saw the suspect or have any information with regards to this burglary please contact Ealing Police on 0208 721 7070 Or if you wish to remain anonymous please call crime stoppers on 0800 555 111
September 16, 2010