Downton Abbey cast award Barnaby Thompson with accolade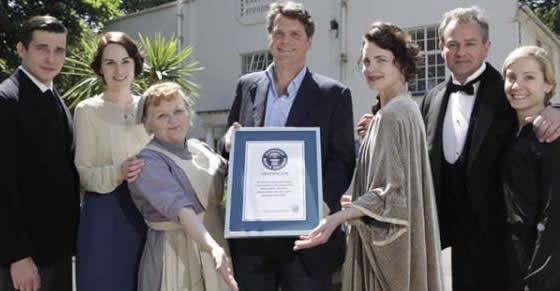 Photo from twitter @hughbon
Guinness World Records, publishers of the Guinness Book of World Records, has officially recognized Ealing Studios as the world's oldest, continuously operating movie studio.
The studios have been making some of the most iconic and classic British cinema and films for over a century.
The awarding of the Guinness record to studios' boss, Barnaby Thompson, came as part of an effort by London & Partners, one of the city's promotional organizations, to make news by breaking (or at least have recognized) 20 records in London before the city serves as host of the Summer Olympics in July.
The cast and crew of Downton Abbey were on hand to honour the studios, and actor Hugh Bonneville (@hughbon) tweeted the photo saying : '#DowntonAbbey bods presenting Barnaby Thompson with Guinness World Record for oldest continuously operating studios.''
Gordon Innes from London & Partners said::
"After 110 years of film-making this award marks the contribution this London icon has produced not only for world cinema, but also our economy. Our capital continues to be featured in some of the most inspiring and creative films and from our research we know that one in ten overseas visitors cite film as a reason to come to the capital, generating £1.9 billion in revenue each year."
Famous films shot at Ealing Studios and its predecessors include the very first movie version of Hamlet in 1912, as well as the 1950s Alec Guinness comedy classics, The Ladykillers and Kind Hearts & Coronets. More recently, the popular pair of St. Trinian's films was shot there as well as Shaun of the Dead.
This year, Colin Firth completed shooting on his remake of the heist film, Gambit, at Ealing and soon will be shooting Bridget Jones' Baby, the third film in the successful series.
2nd June 2012