Saul finally has a reason to put a smile on his face as he settles into new home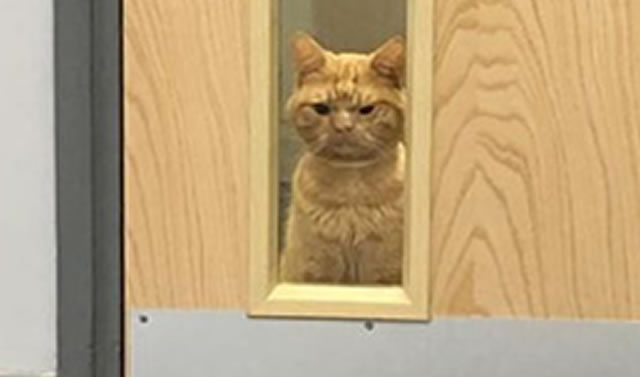 The scowl that went viral
A cat dubbed Grumpy Cat 2.0 who was being looked after at Southall Cattery has found a new home.

Ginger sour-puss Saul became an internet hit due to his bad tempered expression. Saul had been rescued by the RSPCA in October after being found by a member of the public staggering along Peckham High Street in the rain with nasty injuries caused from being hit by a car.
An RSPCA spokesperson said: "Saul gave the word sourpuss a whole new meaning! When he was rescued by one of our animal collection officers he had injuries to his jaw, teeth and one eye, and needed surgery to wire his jaw. It's not surprise he wasn't feeling particularly chipper.
"However, despite his constant scowl and crabby expression, he's incredibly affectionate and friendly and we knew he'd find a new home quickly."
Once he was on the mend, Saul moved from the Putney Animal Hospital to the charity's Southall Cattery where Christina Thomas and her family came to meet him.
Christina said: "My daughter had seen the news about Grumpy Cat and sent me the photo of Saul looking out of the door at Putney, my exact words were: 'Oh I could love him. My son-in-law traced him to Southall and we went to meet him the next day. My husband and I knew we could give him a new home."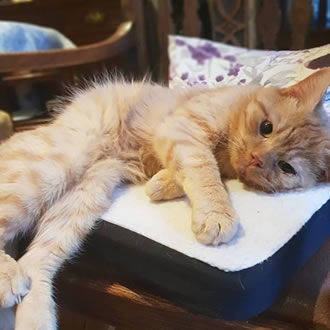 Saul enjoying his new home comforts
The couple waited for more than two months for Saul's operation to have the wire in his jaw removed and surgery to remove a tooth and treat his eye. On 4 January, the Tom cat headed to his new home in Gillingham, Kent, with Christina. She said: "He was worth the wait. He has settled in so well, you'd think he'd been here forever. His favourite thing - second to eating, of course - is having his daily brush. He still has his grumpy face but I love him for it, I think he has a lovely look."
If you'd like to offer an RSPCA rescue cat a home please visit www.rspca.org.uk/findapet.
To help the RSPCA rescue more cats like Saul donating by visiting the RSCPA's donation page.
30 January 2019