Estate will eventually have 700 new homes and be fully open in 2019
Related Links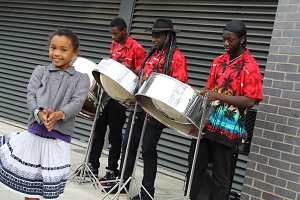 Ruby Alima and the Nostalgia steel band at the Green Man Lane event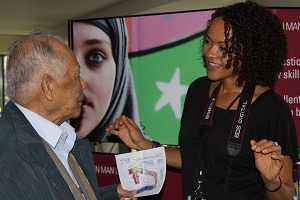 Othman Bin Darus with Charlotte Drew from A2Dominion's Community Investment team
Participate
Sign up for our free newsletter
Comment on this story on the
A special community celebration has been held to mark the first phase in the £155m regeneration of the Green Man Lane estate in West Ealing.
The event took place on Saturday 18 October, at a brand new community café in Chardon House, on Singapore Road, which has been built as part of the project and officially opened to the public this month.
The Green Man Lane estate, was originally built in the 1970s, and will have over 700 new homes once completed in 2019, along with new play areas, open spaces and community facilities. The local primary school, St John's, will also be expanded to accommodate the needs of the growing community.
Working closely with Ealing Council, the regeneration is being delivered by joint venture partners A2Dominion and Rydon, and has been designed by renowned architecture practice Conran and Partners.
Heather David, A2Dominion's Head of Community Investment, said: "We were delighted to celebrate this fantastic milestone in the transformation of the Green Man Lane estate with so many people from the local community.
"Residents have been at the heart of the regeneration project from the start, helping to shape the plans and designs to create an attractive, safe and sustainable community.
"We will continue to work closely with local people, and have been inviting residents to get involved in two new community groups that we're setting up that will give them the chance to have their say on how the estate will be managed, and what services and activities will be provided."
Ealing Council Leader, Councillor Julian Bell, added: "The transformation of the Green Man Lane estate is taking shape at great pace and it's amazing that we already have so many brand new homes and wonderful community facilities to breathe new life into the area.
"It is wonderful to be celebrating the completion of phase one at the scheme, and thanks to the continued support of the local community we will eventually have a further 187 new homes for local people."
Lee Davies, Director of Conran and Partners, said: "It is important to celebrate the immense achievements of the local community at Green Man Lane, who have helped us deliver a vision and complete the first phase of regeneration. We have created stylish and modern homes and are very much looking forward to the continued transformation of the estate."
The community café, where the event was held, differs from traditional community centres, and will host a programme of events including theatre performances and arts classes for residents of Green Man Lane and the wider area.
The second phase of the regeneration is now under way, delivering 187 new homes for rent and private sale.
For more information about the community café or the Green Man Lane regeneratioe contact A2Dominion's Community Investment team on 0800 432 0077.
29th October 2014