Work on a multi million pound project to transform estate due to start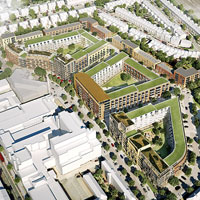 There's an unmistakable air of anticipation and excitement around Green Man Lane.
After years of preparation, and much consultation, residents will soon be welcoming in the builders.
Pictured (right) is how this 70s West Ealing housing development currently looks, and the images (above and just below) is how it is expected to look after a £137 million makeover.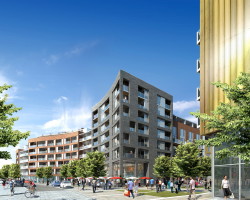 Building work will be done in four phases and it will take around 10 years before it's all complete.
The existing 464 homes will be demolished and eplaced by 706 new properties for affordable rent, shared ownership and outright sale. The first block of residents have moved out - but will have the option of moving back.
Developers A2 Dominion,and Rydon say they want want to turn this neglected area of W13 into an attractive, community where people really want to live. Some new features will include a cafe/eaterie, gym and community centre along with green areas and children's play facilities.
The proposed landscaping work could turn the currently grey and rather grim Singapore Road into a 'boulevard' lined with trees - there's even talk that it could be called Singapore Gardens.
The name change is an important aspect of the Green Man Lane overhaul. Local residents are keen to shake images of it as a crime ridden estate.
Anne Fabing, who has lived here for 30 years says it has always been rather isolated and forgotten about. She hopes the new plans will intergrate the area more with the rest of West Ealing. She says: ''It will be good having extra green spaces which will bring people into the area."
Linda Collett has lived here for 14 years and has been heavily involved with the whole planning process. She can't wait for work to start and believes it will unite the community: "Hopefully it will be the sort of place where your neighbours end up becoming your friends."
Work is expected to get underway on phase 1 in January 2011.
24 November 2010