Long awaited improvements to station accessibility
Participate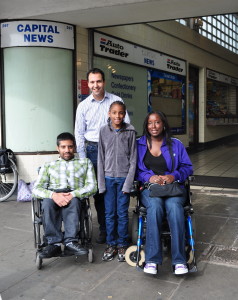 Cabinet member for Transport and Environment, Councillor Bassam Mahfouz (back row) with Khalid Khan and Grace Andrews from Ealing Transport Users Group and Grace's daughter Xavia.
Sign up for our free newsletter
Comment on this story on the
Greenford Station will be getting a sloping lift installed to help wheelchair users, older people, parents with young children and holiday makers.

It'll be the first in London to have the incline lift which will travel at an angle next to a new escalator.
London Underground is set to begin work in May next year and complete it by Spring 2015.

Transport for London (TfL) stopped work to install a traditional vertical lift at the station in 2009 because it could not afford the estimated £10million needed. Ealing Council persuaded TfL to change its plans after carrying out research showing an incline lift could be installed for £2million.

Other improvements planned for Greenford Station include installing a new escalator in the central stairway; making the ticket machines more accessible and installing disabled toilets.

Councillor Bassam Mahfouz, Cabinet member for Transport and Environment said:
"This is fantastic news which will end years of frustration for passengers in wheelchairs by giving them step-free access to Tube and rail travel at Greenford. It will open the doors for many residents to be able to access central London for the first time without the worry of expensive taxis.''

Cllr Mahfouz was joined at Greenford Station by local residents in support of a lift at the station, including members of Ealing Transport Users Group.

Lianna Etkind from campaign charity Transport for All, a group which campaigns for fully accessible public transport for disabled and older Londoners said:
"More than three quarters of London Underground is out of bounds to wheelchair and scooter users, because of steps. We warmly welcome plans to install a lift at Greenford station as a step towards a transport system which older and disabled people can use with the same freedom and independence as everyone else.

London Underground is set to begin work in May next year and complete it by Spring 2015.

A proposed contribution of £200,000 from Ealing Council towards the £2million cost of the lift will be discussed at a Cabinet meeting in September.
28th August 2012