Dispersal zone comes into force from beginning of September
Related Links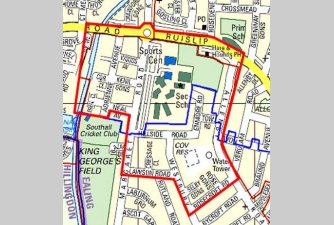 For further information, contact Greenford Broadway Safer Neighbourhoods Team. Their number can be found here.
In an emergency always dial 999.
Participate
Sign up for our free newsletter
Comment on this story on the
Youths who have been causing trouble near a local school could be fined - or could even face prison - if they don't obey new laws.
In a bid to protect pupils and crackdown on anti-social behaviour from people thought to be from outside the area, police have set up a new dispersal zone bordering Greenford High School.
From September 1st until the end of January next year officers will have the power to:
Tell people in the group to disperse (either immediately or at a stated time and in a stated way).
Tell people who don't live in the affected area to leave (either immediately or at a stated time and in a stated way).
Tell people who don't live in the affected area not to return to the affected area or any part of it for such period (not exceeding 24 hours) from when the direction was given, as he/she may specify.
If you are under 16 you may not be allowed to be here between the hours of 9pm and 6am unless you are under the effective control of a parent or responsible person over the age of 18.
You may be removed to your home or place of safety if more appropriate.
To contravene a direction is an offence under Section 32 of the Anti-social Behaviour Act 2003, punishable by 3 months imprisonment and/or a fine not exceeding £2500.
A notice will be displayed in the affected area announcing the end of the authority when it no longer applies.
Superintendent Simon Message said: "The introduction of this dispersal zone sends a strong message that anti-social behaviour will not be tolerated.
"It will also ensure that the area and surrounding streets remains a safe environment for those residents and members of the public, who live, work and visit their local amenities now and in the future.
''Any individuals, irrespective of their age, seen to be acting in an anti-social manner will be dealt with appropriately.
''It is important that people witnessing any anti-social behaviour in the area report it to the police immediately so the appropriate action can be taken against offenders.
''We have listened to the communities in the areas concerned and this further demonstrates that we are here to support the Communities of Ealing."
21st August 2012