Wins new bike in competition
Related Links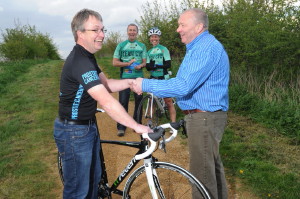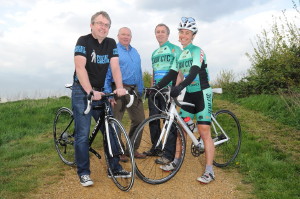 James's fundraising challenge 'A Penny Per Mile' is in aid of Prostate Cancer UK, for more information visit here
Participate
Sign up for our free newsletter
Comment on this story on the
A charity fundraiser from Hanwell will pedal his way to new heights after winning a brand new road bike in a national competition.
To mark the launch of Green Energy's sponsorship of Team CTC the women's road cycling team, earlier this year, a competition was hosted on Facebook to find a budding cyclist to win an n7even Majoris 700c road bike, worth nearly £1,000.
The lucky winner selected was James Morley a website manager who lives in Hanwell.
"I am a huge fan of cycling and take part in fundraising events where I can," commented James. "I was diagnosed with prostate cancer in 2011 and therefore fundraising for cancer charities has been a huge part of my recovery. This year my aim is to ride 5,000 miles to raise £5,000 for Prostate Cancer UK and winning this fantastic new bike will certainly help me on my way."
Doug Stewart, CEO from Green Energy UK, said:
"Cycling is a great sport as well as a great form of transport and we are proud to help make women's cycling more mainstream. Partnering with CTC the national cycling charity's women's team 'Team CTC' was a natural step for us. Being green doesn't have to be a big lifestyle change; small steps can all contribute towards a more sustainable way of life."
"Giving away a bike to encourage more people to get pedalling was a no brainer; the fact the winner, James, can use the prize in his fundraising efforts is a fantastic added bonus."
James continues "The new bike will spur me on even more over the next few months and it will hopefully encourage people to donate a penny for every mile that I cycle."
Over the past decade Green Energy UK, has adopted a common-sense approach to green living and has supported innovative ways of generating sustainable energy while advising its customers on how they can use less and make a difference without big or costly changes.
8th May 2013