A locally made film commemorating the soldiers of WW2
Two Ealing neighbours have paid a moving tribute to WW2 army veterans and the soldiers that never came home.
Nicola Gaughan and Brendan Pascal Lonergan, formed Shanachaie Films last year and have produced the film, 'What Did You Do In The War, Grandad?'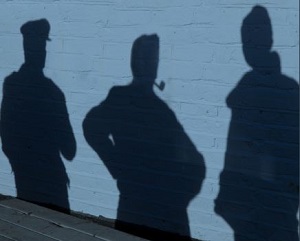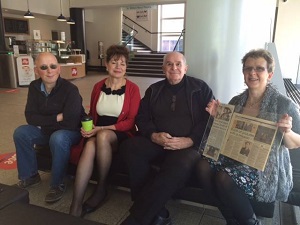 (l-r James Linehan (named after his missing uncle) Isabel Davis Glebocki, Geoffrey Morgan and Nicola Gaughan)
It stars local talent, Geoffrey Morgan and Isabel Davis Glebocki both from Questors, and up-and-coming star, nine year old Jasmine Arrow.
The 10 minute short film, is a gentle and sensitively handled portrayal of a WW2 RAF veteran recalling his lost comrades and sharing memories with his young grandaughter.
Dr Alan Outten, from London School of Film, Media and Design, at the University of West London, invited Nicola and Brendan to screen it last weekend (30 Jan).
He said: '' Ealing is a hot-bed for local creative talent and the University is always keen to further promote the creative connections we have in West London and to support the local community. I look forward to welcoming Nicola and Brendan back for a screening of their next production.''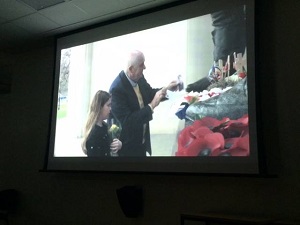 For writer/producer/editor, Nicola Gaughan, the film is a highly personal work. On April 8 1942, 20-year-old pilot James Linehan took off from RAF Feltwell to Hamburg in a Wellington bomber but never returned. The young RAF airman was Nicola's Uncle.
Nicola tells Ealing Today the motivation behind the film:

''For the last 5 years I've been researching what happened to my uncle's plane, hoping to find the crash site and possibly repatriate any remains. From knowing just that he was killed, I discovered what life was like for these brave young volunteers - yes the RAFVR were all volunteers, they weren't conscripted. I learnt about his training, the raids he flew, I discovered that other young men died with my uncle.
''I suddenly felt responsible for them all, if I found one, I found them all. I discovered that the rear gunner of the crew had lied about his name and his age to sign up. I was able to reunite his family with his RAF records and amend the entry for him. I discovered that two of the crew had come from Australia and New Zealand to help the 'Mother Country'. One I discovered was uncle to Seth Lakeman the famous folk singer. I was able to pass all the information I'd discovered to the families of the other crew members who wondered for years what had happened to their relatives, meaning partial closure and healing for them.
''Five years on, I believe I have narrowed down the search area to Wihlemshaven harbour in Germany. Only time will tell if I will find the proof I'm looking for. In the meantime, I've become heavily involved with other families who had relatives who've served in Bomber Command I help organise the unofficial remembrance service every November at the Bomber Command Memorial . I've also published a charity book of my photos of the Memorial to help raise funds for the upkeep of the Memorial.
''Continuing my mission to ensure that 'my crew' particularly, and all the members of Bomber Command and their contribution to the war effort aren't forgotten, I've written a feature film script about my uncle's WW2 RAF career and also 'What did you do in the war, Grandad?'
I wrote, produced and edited it and it was directed by Brendan Lonergan, a friend who is a creature effects artist and has worked on films such as Saving Private Ryan, Gladiator and Alien. We started filming in January 2015 and filmed our last scene at the Bomber Command Memorial, on 8 April 2015, a very poignant date as it was the 72nd anniversary of my uncle and his crew going missing.
''I hope that 'What did you do in the war, Grandad?' helps to commemorate and honour them in perpetuity.''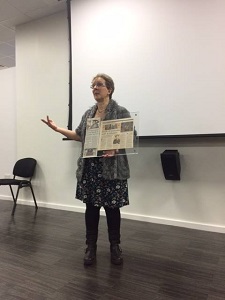 Nicola's story was featured in the Daily Express on 14 October 2013.
Nicola's book can be viewed and purchased via this link - all money goes to the Bomber Command Memorial upkeep fund.
February 2nd 2016