Google captures a lively image outside The Grove pub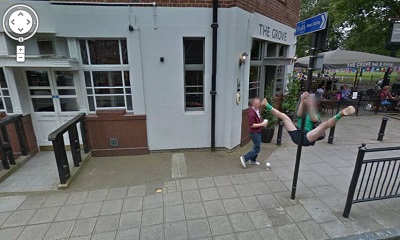 Is this person exercising - an Ealing Eagle warming-up pre-run maybe?!
Perhaps he's just very happy?
Or maybe he's spotted the google camera and is performing? What do you reckon?
Google street view technology offers 'panoramic views from streets all over the world'. It was launched in the US in 2007 and started in the UK in 2009.
Car mounted cameras capture the images - a trike and snowmobile are also used for harder to reach places. There have been a number of challenges to the use of the technology and car number plates and faces are now blurred for privacy and anonymity issues.
Do you recognise yourself in the above picture? What were you doing?
You can view full image on streetview:
https://www.google.co.uk/maps/preview/@51.510394,-0.305201,3a,75y,181.52h,76.19t/data=!3m4!1e1!3m2!1sWlyydXVur8V8TDvy1oKqDA!2e0
Any captions - send them in!
"Ealing Councillor misreads invitation to Polish dancing event." with thanks to Nigel Brooks
7th February 2014