Former enclosure turned into vegetable plot for Ealing Hospital project
A company's charity day has helped turn an overgrown enclosure at the Bunny Park into a planting space for fruit and vegetables.
The site at Brent Lodge Park had been used as a goat enclosure before being given by The Animal Centre to a project at Ealing Hospital to help mentally health patients.
A team from management consultants Baringa Partners were asked to transform the area into a series of beds suitable for growing.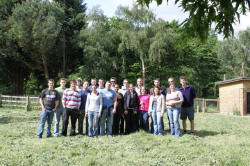 Under the direction of Time to Green (a gardening and landscaping social enterprise), this involved clearing the overgrown site of nettles and cutting back the grass, marking out the best areas for the beds to be sited, constructing the supporting timber frames and replacing the top soil with nutrient-rich compost.
Now ready for planting, the plot will be used by Ealing Hospital for a project providing rehabilitation services to patients affected by mental health illnesses.
The enterprise will grow fruit and vegetables in the beds constructed by Baringa and produce will be sold locally via a veg box scheme, making the venture self-funding and less susceptible to threat of cut backs.
Alex Gurr, senior manager and CSR team member at Baringa commented: "We are proud to be involved with this scheme and the team really relished the opportunity to have such a pivotal role in something so beneficial to the local community. Baringa Partners plan to be involved in future too. The area has space for a further six beds and we hope to contribute some further manpower later in the year to develop the additional growing space. We're all really looking forward to seeing the first crops bedded in and providing produce."
The veg box scheme will offer the chance to develop vital workplace skills as well as therapeutic rehabilitation for patients at Ealing Hospital.
The many visitors to Brent Lodge Park will also benefit from the improved aesthetics of the growing areas, while younger visitors will have the opportunity to learn about the origins of produce.
28 June 2011
25th May 2011