The Great British Spring Clean comes to town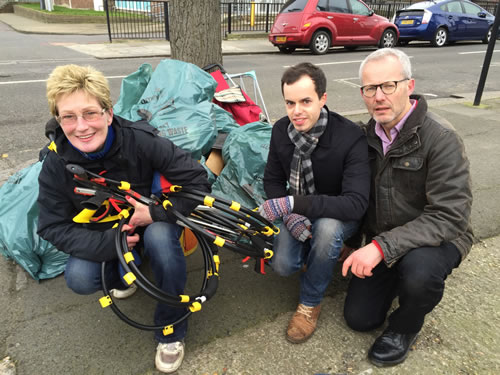 (Picture shows left to right - Councillors Theresa Mullins, Fabio Conti and David Millican at last year's Great British Spring Clean, with rubbish collected behind Boston Parade, near Boston Manor Station)
Residents across Ealing will be getting involved in the Great British Spring Clean (GBSC), which starts this month.
Local groups, residents and ward councillors will be running a series of clean-up events.

Northfield Ward Councillor David Millican said:

"The three sessions on Saturday 11 March are all being organised by Northfield Ward Councillors
As Northfield Councillors we are proud to be organizing this Spring Clean again this year.
''Last year we were joined by 25 or so local residents and we hope even more will join us this year. We'll clear areas often neglected and not part of the Council's contract areas as we give our neighbourhood a Spring Clean"

Events taking place across the borough as part of the GBSP include:

• Community Orchard Planting Day and clean-up at Southall Recreation Ground. Saturday, 4 March, 10.30am - 3pm.

• Ranger led litter pick at Brent Lodge Park. Saturday, 4 March, 9am-1pm.

• Clean up of River Brent at Pitshanger Park. Sunday, 5 March, 11am - 1.30pm (meet at the bandstand, next to the Will to Win café).

• Litter picking at South Ealing Station with ward councillors and volunteers. Saturday, 11 March, from 10am.

• Litter picking at Northfields Station with ward councillors and volunteers. Saturday, 11 March, from 12pm.

• Litter picking at Boston Manor Station with ward councillors and volunteers. Saturday, 11 March from 2.30pm.

There's no need to book for the GBSC events - just turn up and get involved on the day.

Cllr Bassam Mahfouz, cabinet member for transport, environment and leisure said: "The Great British Spring Clean is a great opportunity for everyone to get involved and to keep their local area looking its best.

"The GBSC will see residents rolling up their sleeves, taking pride in their neighbourhood and doing their bit alongside the council. I'd like to thank those involved for their hard work.

"The council is committed to keeping the borough's streets and parks clean and litter free. We also crack down on illegal and irresponsible fly-tipping, and deal out hefty fines to anyone making a mess on our streets."

For further information about GBSC events in the borough, visit www.ealing.gov.uk/springclean
February 28th 2017