Gaz Choudhry - wheelchair basketball player
When the Paralympic games begin in earnest tomorrow keep an eye out for the wheelchair basketball and particularly vest number 4 - he's from Ealing!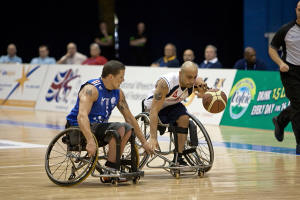 Gaz Choudhry, 26, lost his leg from cancer as a child but discovered a love of - and talent for - basketball after visiting a road show by the Great Britain Wheelchair Basketball Association.
He started playing at the age of 13, and says he enjoyed the sport because of the sense of freedom it gave him.
As a junior, Gaz represented GB in a number of international tournaments winning two gold and a silver medal, as well as being chosen in the All Star team at the European's Championships in Adana, Turkey.
Prior to the Paralympics in Beijing, where he was named as reserve, Gaz moved over to play in Italy at Porto Torres.
He made his GB seniors debut at the 2009 BT Paralympic World Cup and he was also a member of the World Championship team that came 5th in 2010.
He won gold with the team at the 2011 European Championships, which stands along his greatest achievements to date.
He has now been competing for over 13 years.
Gaz says it's one of the hardest games to win because there are so many different stages but he'll give his all to help the team get a medal for TeamGB.
Lots of luck to Gaz and the ParalympicGB team.
You can send your best wishes to Gaz via twitter @GazGB4
28th August 2012