Traffic mayhem during afternoon rush hour
A gas leak caused havoc on the Uxbridge Road in West Ealing this afternoon.
Police, along with the fire service and gas officials were called to the scene close to Daniels on the junction with Broughton Road just before 3pm -where a gas main had been ruptured.
The Uxbridge road was closed for a time and traffic was stationary backing up throughout Ealing at rush hour.
Northfield ward Councillor David Millican tweeted the picture below showing the road closed in both directions.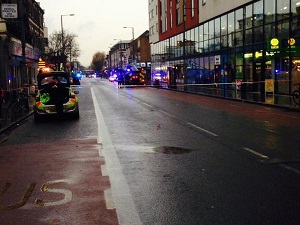 London Fire Sevice said they were called at 2.50pm to reports of a ruptured gas main on a footpath on Broughton Road.
They set up a 100 metre hazard zone and were working alongside gas board officials to make it safe.
Police say road closures were put in place between Northfields Avenue and Culmington Road. Approximately 20 residents were moved to safety for a short time. Engineers isolated the leak and the roads were re-opened at approximately 1700 hours.
November 25th 2014