Injured man being questioned about the blast
A man's been arrested following a gas explosion in a two-storey building in South Ealing early Sunday morning.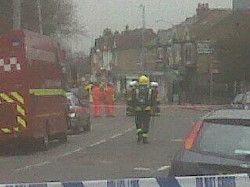 Emergency crews were called to flats at Carlyle House on Carlyle/South Ealing Road at 0915 GMT.
A man - in his 60s were taken to hospital with minor injuries and has been arrested for causing an explosion with intent to endanger life. He has since been released on bail to return to Southall Police Station on the 21/3/2011.
Police say they are investigating whether the gas had been left on intentionally.
Local resident Emma Renton heard the explosion.
The blast caused debris from the flat to fly across the road - some of the roof tiles reached as far as the playground structure on the Clayponds estate. Local residents say it was a miracle nobody was killed.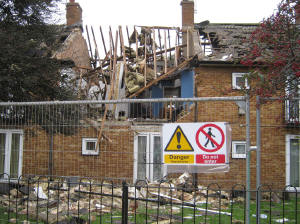 (photo Kevin Farnan)
Two crews and a "hazardous area" response team were among the ambulance units sent to the scene.
The roof of the building has been badly damaged and London Fire Brigade say the block remains unstable.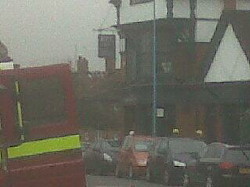 There is also damage to the interior of the flats and houses on Carlyle Road were also affected. Writing on the Ealing Today forum, resident Lauren Bonner says their needs have been largely ignored.
11 people were evacuated from the flats and have been housed in temporary accommodation.
South Ealing Road was closed to traffic at its junction with Carlyle Road but has now reopened and the 65 bus, which runs between Ealing and Kingston, has been diverted along Little Ealing Lane, Windmill Road and the Great West Road. TfL say it will remain on diversion for the rest of the week.
They advise passengers to check their website for updates.
24 February 2011