And have a break from dealing with wheelie bin complaints
Ealing Lib Dem councillor and intrepid explorer, Gary Malcolm, is taking to the mountains again - this time his biggest challenge yet - Everest.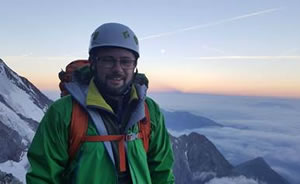 Having climbed Gran Paradiso, the tallest mountain in Italy (over 4000 metres) and nearly getting to the top of Mt Blanc, (he had to come down due to altitude sickness), Cllr Malcolm is now training for his sixteen-day trek in October to Everest Basecamp in Nepal!
He is part way to raising £1,000 for the Disasters Emergency Committee. At times of overseas emergency the DEC brings together UK's aid, corporate, public and broadcasting sectors to ensure funds raised go to DEC agencies best placed to deliver effective and timely relief to people most in need. They have helped disasters around the world including Syria, famine regions the Nepal earthquake in 2015 and tsunamis.
Says Gary: "A Norwegian mountaineer friend was caught up in Nepal half way up Mt Everest when the earthquake struck last year and he told me that Nepal needs visitors, tourists and mountaineers so I thought trekking there to at least see Mt Everest would be a wonderful way to raise money for DEC who do loads of good work all around the world."
Support Gary and donate through his Just Giving page.
1 September 2016