What to chop and when? Putting the garden to bed
Related Links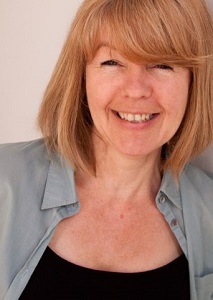 Caro Sanders is a garden designer based in West London who loves helping home owners in London and the Home Counties transform their gardens from ugly ducklings into beautiful swans. She can turn her critical eye on any patch of land and offer helpful advice to potential sellers as well as new buyers wanting to make the garden their own. Trained in Garden Design at Capel Manor College, she creates gardens little and large, and believes that everyone is entitled to a great view, ideally from their own doorstep.
Contact details: www.carogardendesign.co.uk info@carogardendesign.co.uk
020 8566 3750
Facebook
LinkedIn:
Twitter: @carogarden
Participate
Sign up for our free newsletter
Comment on this story on the
We do seem to have finally run up against winter. Which is fair enough, we've had a pretty good blast of summer. But before you get stuck into the pre-Christmas shenanigans, it's time to think about sorting out the garden with its new Winter look. Do nothing, and it will look like the last guest at a drunken summer party.
So - what to chop and when? It can all seem a bit daunting so I've devised a simple scheme to help you. Let's call it Colour and Size Matters.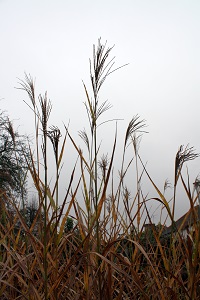 Arm yourself with a pair of secateurs, a bucket or bag for Waste Stuff, and a good pair of gardening gloves. Set out bravely into the wilderness, keeping this in mind:
Green is good – leave it be
Yellow is ok if looks like the plant you first thought of, but if it's curling up or lying on the ground it's probably on its way out – it can go
Brown – generally it's had it. Except – this is where size comes into play:
Big – eg trees – leave them alone unless they are seriously suffering in which case you probably need to get in a tree surgeon
Medium - eg shrubs – if it's brown it might like a bit of a tidy up, if you are not sure what you're doing then gently trim back the branches till you end up with an overall shape you like. If it's green (see above) leave it alone – you can prune it next year after it's flowered, if you must.
Medium – eg climbers – this is a longer story but essentially if it's brown and a tangled mess, trim it back till it looks halfway decent, but don't chop it to ground level unless you're good at the waiting game
Small – eg herbaceous perennials – these are the plants that often come up in spring, do their thing over the summer and autumn and start dying back around now. Whole libraries have been written on the merits of keeping dead stems over winter, the untold benefits to bugs and wildlife, the gorgeous spectacle of frosted grasses on a chilly December morning, and so on. Which is great but you don't want to be looking at a heap of brown mush all winter so, if it's small and brown and shapeless or worse, slimy, then it can go. If it's any of those things and you don't like it, it can go. If it's just small and brown it can probably live another day. Till your next excursion, at any rate.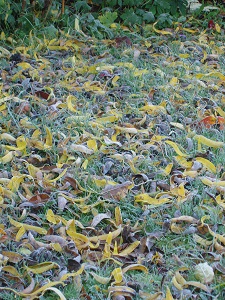 If you're feeling energetic, it's also worth blowing or raking all those autumn leaves together and getting them off the lawn and paths, at any rate. Makes the place feel tidy.
Now dump all your waste bits and bobs (tree surgeons call them "arisings" by the way, which sounds like a wonderful Victorian euphemism) in the compost bin. Or in your green recycling bags. Or take to the dump and pop in the green waste. That's the serious stuff done and dusted.
Finally, treat yourself to a bit of winter colour – all the garden centres are stuffed with cyclamen at this time of year, which are my favourite temporary splash of bright but not garish winter colour. You have a choice of white, red or any number of pinks in between, and all come with fantastic marbled dark and silvery green leaves. You can put them in pots and window boxes and even in gaps in the border (personally I think the white ones usually work better in garden beds).
See! Your garden will think Christmas has come early.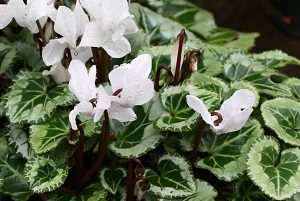 Caro Sanders