Owner needs to know what happened to body of much loved pet
Related Links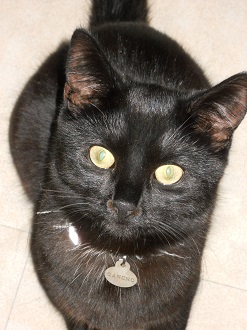 Did you see Gancho on corner of South Ealing Rd and Occupation Lane on Saturday 25th April?
Participate
Sign up for our free newsletter
Comment on this story on the
A distraught cat owner from South Ealing is desperate to find the body of her much loved pet 'Gancho', and is appealing for help.
Caroline Roberts writes:
''My cat was run over and killed on the corner of South Ealing Rd and Occupation Lane on the night of Friday 25 April. The body was seen on the pavement on Saturday morning wrapped in a multicoloured blanket. It was taken away in the early afternoon.
''He had lost his collar but was microchipped, and I know he was not taken by the council. I would just like to find out who took him away so I can be absolutely sure it was my cat, and also to know what happened to the body.
''If you moved him, or you know who did, please get in contact with me to give some closure. Call 07980 883003''
Description: Male, 1 year, all black with a few white hairs on chest
Ealing Council say they didn't find Gancho and have advised the owner to contact Hounslow Council as it was on the border.
They advise residents to report dead animals on on roads, pavements and other public spaces on www.ealing.gov.uk/reportit or call 020 8825 8825
They say they aim to remove the body within an hour between the hours of 6am and 10pm, seven days a week.
When the contractors pick up a dead cat or dog they scan it for a microchip.
A spokesperson said:
''Unfortunately if an animal has suffered traumatic injuries the microchip can be damaged and not work when scanned. If a microchip is found we then ask the microchip company for the owner's details so that we can contact them.
''This is why it is particularly important for pet owners to ensure they keep their contact details up to date with the microchip companies. The owner is then contacted and advised as sensitively as possible and asked if they would like to collect their pet's remains or for us to cremate them.''
Ealing Council is holding a free dog micro-chipping session with the Dogs' Trust on Thursday, 8 May at Havelock Rd Open Space from 11.00am to 3pm.
April 30th 2014