Freddie Mercury mural now adorns the University of West London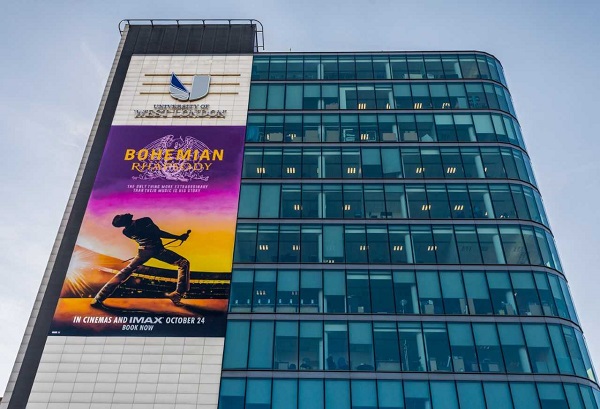 ( pic Courtesy Roger Green)
One of Ealing's colourful alumini is being celebrated this month and the University of West London (UWL) is marking the occasion too.
The forthcoming biopic of Queen frontman Freddie Mercury is being promoted with a giant mural on the side of a building connected to his former art college in west London.

The Bohemian Rhapsody mural was completed on 5 October 2018 having taken two weeks to spray-paint on to the UWL Paragon House building, at the southern end of Boston Manor Road, Brentford next to the M4, one of London's busiest motorways.

The mural has put the theatrical singer, who died in 1991, back in the limelight once again.

Mercury, previously known as Farrokh (or Freddie) Bulsara, grew up in Zanzibar and India before moving to Feltham with his family in his tens. He attended UWL's predecessor institution, Ealing Art School at St. Mary's Road, Ealing. He made one of his first public performances there on 31 October 1969 as the lead singer of a band called Wreckage.
Mercury, known for his flamboyant stage persona and soaring vocals, wrote many of Queen's hits including ' We Are The Champions' ' Killer Queen' and of course, Bohemioan Rhapsody'.
The premiere of Bohemian Rhapsody, starring Rami Malek is on 23 October 2018.
October 10, 2018