Widow of murdered headteacher gets MBE for her campaigning
Participate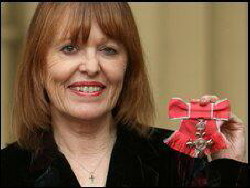 Frances Lawrence with MBE
Comment on this story on the
Frances Lawrence, the widow of murdered head teacher Philip Lawrence, has received an MBE from the Queen for her charity work.
Her husband was murdered 14 years ago outside St George's Roman Catholic school in west London as he tried to defend a pupil against an attack.
A year after his death Ealing resident Mrs Lawrence set up the Philip Lawrence Awards.
She said: "If things had been different Philip would have been here today getting something himself, I'm sure."
Mrs Lawrence has been instrumental in running the Philip Lawrence Awards, which reward good citizenship and achievement in young people aged between 11 and 20.
She said: "The award is for work on issues (Philip) was dealing with all his working life.
"He always felt that we ought to celebrate those young people that are doing something positive.
After the Buckingham Palace ceremony Mrs Lawrence admitted the occasion was "bittersweet" and said she "hoped for the best" for her husband's killer when he is released.
Learco Chindamo, who was 15 at the time, was jailed in 1996 for a minimum term of 12 years for his murder - which he has now served.
November 16th, 2009