Ealing Today voters would favour a cull
Related Links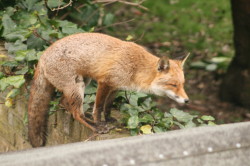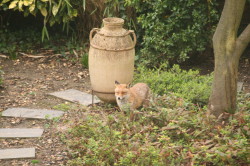 Photos courtesy of Ealing Today member Diane Fick who observed this fox in her garden.
Participate
Sign up for our free newsletter
Comment on this story on the
It seems foxes don't have too many friends in Ealing.
We have been conducting a poll on Ealing Today to assess the general opinion of the urban fox and we asked whether the council should cull them.
The results have been close, but ultimately it appears that more people would agree with some form of pest control to get rid of these once nocturnal visitors.
To date (14/10/09) 125 people have voted and more than half (59%) are in favour of a cull with 41% against.
Of course an official cull isn't likely - Ealing Council does not trap or destroy foxes as they say research shows this has little, if any, effect in reducing their numbers.
The council advise precautionary measures such as removing all sources of food from the garden, using commercial repellants and blocking obvious entrance and exit points.
Some say lion dung can be used as a deterrent, is that true?
Do you have any other suggestions that have worked?
Discussion is continuing on the forum
Editor - EalingToday.co.uk
October 15, 2009