38 years since the school last won a national competition - fingers crossed
For the first time since 1974, when the school last won a national competition, a Drayton Manor team has reached the England School's Football Association national finals, following an exhaustive programme of matches across the country.
It is believed that this is only the second time that an Ealing school has reached a national final and it is a significant achievement for a school and the borough.
Naturally the school is delighted, Miss Paine, the team manager says:
''This is an outstanding achievement for the girls involved and for the school. The school 1st XI won the National Cup back in 1974 but this is a history making cup run for the girls, made all the more impressive as it is the first time they have been entered in the competition. I am enormously proud of the team and of every individual player within it''.
Selin Buyukgiray team captain says: '' This team has shown commitment throughout this tournament. There is not one individual that hasn't put 100% into each match, no matter how hard or easy. We set the bar as soon as the whistle blows at the start of the match and maintain that standard. We play as a unit, not as individuals, and that is what has brought us such success".
The girls are due to play the final against a school team from Northampton, Cleveland or Walsall in the next few weeks
Road to the final
Middlesex Qualifiers
Round 1: Highgate Wood
Round 2: Mill Hill
Round 3: Hayden (Hillingdon)
Semi-finals: Acton High

National Competition
Round 2: 8-0 St Angela's Ursuline School (Newham)
Round 3: 8-0 Shenfield High School (Chelmsford)
Round 4: 1-4 Parmiter's School (Watford)
Round 5: 0-3 Stratton Upper School (Bedford)
Round 6: 4-3 Maiden Erlegh School (Reading)
Round 7: 5-0 Shoeburyness High School (South East Essex)
Round 8: 3-1 Gordano, North (Somerset)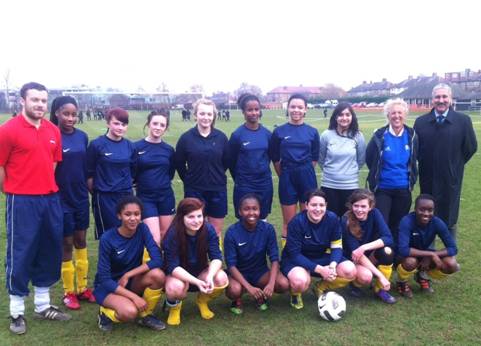 The Team
Front Row from left to right – Trina Cassie, Kate Munday, Tanasha Julien, Selin Buyukgiray (Captain), Megan Thomas, Grace Ogwell
Back row from left to right – Mr Wayne Walsh (Assistant Manager), Tranée Pope, Demi Beckwith, Lucy Taylor, Maddie Dale, Amran Ahmed, Hannah Ege, Sabrina Lannabi, Miss Lorely Paine (Manager), Sir Pritpal Singh (Head) (not in photograph Maya Mayall)
We wish them the best of luck!
7th March 2012