Council claim additional recycling left next to blue bin was' illegally' deposited
Ealing Council has been accused of taking a heavy handed approach over rubbish and recycling collection after a number of residents revealed they started the New Year with a fine for 'fly-tipping'.
Over the Christmas holidays the collection system was altered - creating additional waste and leading to some confusion throughout the borough.
Residents have complained of encountering a variety of problems including food waste bins not being emptied, additional recycling not being collected and, in one case only half of a specifically cut down Christmas tree being removed.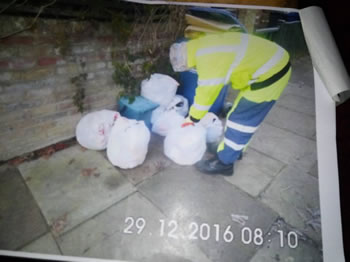 Liz Jenner from Half Acre Road in Hanwell left additional recycling next to her blue bin outside her house and was shocked the following week to receive a Fixed Penalty Notice accusing her of 'fly-tipping'. The letter warned that if the £80 is not paid she could face further prosecution with the Magistrates Court having powers to issues penalties up to £2500.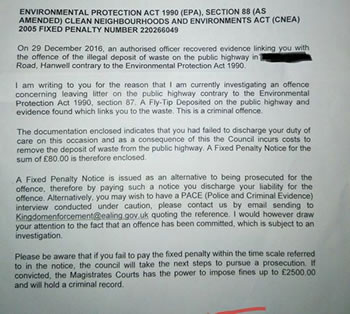 The fine has been actioned by Kingdom - the private security firm acting for Ealing Council - and Ms Jenner is not intending on paying it.
She was shocked and confused to get the letter and believes that if there was a mistake over the additional recycling, a warning letter would have sufficed. She says, ''Further down the road there is a real problem with rubbish being dumped, they should be investigating this, not easy targets of householders who just want their recycling collected.''
Neighbours have been offering their support on local social media pages, some reporting how they too had received the same notices. The majority of residents have been expressing how appalled they are by the hard-line letter and fine, claiming it's an example of the council trying to make additional revenue from 'soft' targets.
Councillor Bassam Mahfouz, cabinet member for transport, environment and leisure said, "We're doing everything we can to encourage recycling and I'd like to thank residents for helping us to recycle more than 50% of Ealing's household waste.
"Residents wanted us to take tough action against fly-tippers, which is why we have brought in extra enforcement crews to fine the small number of irresponsible people who illegally dump waste on our streets.
"We urge residents to check our website for information on how to present extra recycling, so that it gets picked up and does not block the pavement."
January 12 2017