Free vaccinations are available for the elderly, children and those with health conditions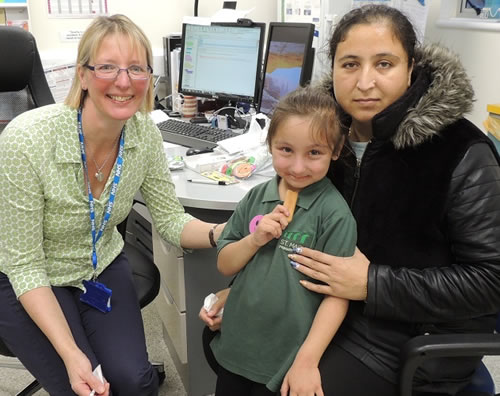 Local health workers are urging Ealing residents to get vaccinated to cut risks of catching or spreading flu this winter.
Local nurse Sally Armstrong ( pic above) who works at the Cuckoo Lane Practice on Church Road, wants to encourage more of her co-workers and members of the public who are at high risk of flu complications to get vaccinated sooner rather than later.
This year, Sally held a special children's flu party to encourage families to bring children aged 2-7 into the Cuckoo Lane Practice to claim their free vaccination.
Local patient Manid Kaur (pictured) was just one parent who took the opportunity to bring her daughter, Prabhjit Kaur in to receive the free nasal spray vaccine.
Sally said: "Not only is flu extremely unpleasant for small children, but if just one child gets the virus, it can spread around to lots of other people really, really fast."
You're eligible for a free NHS flu vaccination (and strongly encouraged to get it) if you are:
· Over 65
· A child aged 2-7
· Living with a long-term condition such as asthma or COPD
· Pregnant
· Living with a lowered immune system e.g. from cancer treatment or from HIV
· A frontline health or social care worker
You can claim the jab or the nasal spray from your local GP. You can also get the jab from your pharmacist. Antibiotics are no good for preventing flu because flu is a virus, not bacteria.
Symptoms of flu include fever, chills, headaches, aching muscles, coughs, and sore throats.
If you're in one of the vulnerable groups listed above, flu may worsen existing conditions, lead to severe illnesses like bronchitis and pneumonia, cause complications in pregnancy, be passed on to other vulnerable people, and, in some cases, it can even be fatal.
Sally says: "As a nurse, I meet a lot of people who give all sorts of reasons for not getting the vaccine. Once they've had it, they are usually pleased they did.
"Ask yourself: if your child got flu and it spoiled their winter holidays, or they passed it on to an older relative, a pregnant relative, or a person with a low immune system, and it caused severe health problems or pregnancy complications, how would you feel?"
Dr Mohini Parmar, Chair of Ealing Clinical Commissioning Group, said: "We strongly urge high risk groups and frontline NHS or social care workers to get vaccinated sooner rather than later. Don't leave it until the last minute – protect yourself and the people around you by booking an appointment today for a flu jab."
6th December 2016