Plans for Ealing's redevelopment appear popular
Related Links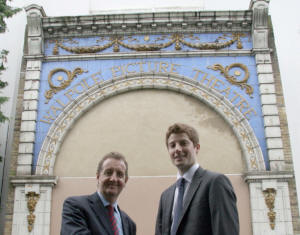 Walpole Picture House :
Council Leader Julian Bell and William Terry from Land Securities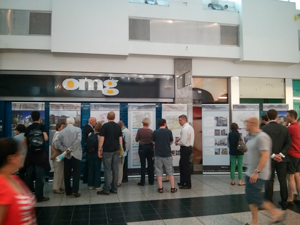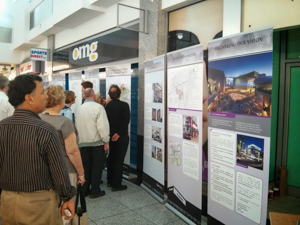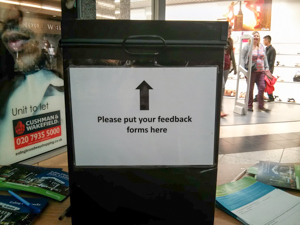 Images of exhibition courtesy Gundeep Anand
Participate
Sign up for our free newsletter
Comment on this story on the

Draft plans for £100 million new film quarter in Ealing's centre, appear to have been given the thumbs up by most residents who got the chance to view them.
They went on show at Ealing Broadway Shopping Centre on Friday (29th June) and Saturday (30th) and feedback forms were handed out to over 600 people.
The proposal is to have a multi screen cinema, an outdoor cinema, community / gallery space restaurants cafes bars, 150 flats and new pedestrianised streets linking New Broadway, Bond Street and Walpole Park.
It's expected the scheme will create around 350 jobs. The plans focus on the area of the former Empire cinema, the building currently home to Ealing YMCA, Flava's Bar and Grill and Walpole House.
It's also hoped to incorporate the old Walpole Picture House archway into the new scheme from its current location on Mattock Lane.
The developer, Land Securities were chosen by Ealing Council after they'd held a 'beauty contest' to look at plans from other developers too.
William Terry, Development Manager at Land Securities, said:
"Almost 92 per cent of those who provided written feedback at the exhibition stated that they supported the plans. The provision of community facilities is at the heart of our scheme and we look forward to continuing to work with Ealing Council, community groups and local people on how these could be used."
Leader of Ealing Council, Councillor Julian Bell, who visited the public exhibition, told me:
"Ealing helped define the British film industry so it is only right that there is a cinema in the heart of our town centre. The council has been doing everything in its power to ensure the plans for a cinema become a reality so seeing the designs on show is an exciting step forward. I would encourage as many local people as possible take a look at the plans for the film quarter and have their say."
Local resident, Gundeep Anand, visited the exhibition and thought it was a success:
''They had information with 3D plans to help residents visualize and get a better understanding of the scheme. I saw a lot of people filling in the forms to give their opinions and organisers said most people were excited about the proposals and wanted it to happen sooner rather than later.''
You can still comment on the plans 'till July 15th by going to the web site www.ealingfilmworks.com where you can leave comments (or vent your spleen) online or by calling 020 7323 3544 or email info@ealingfilmworks.com.
Viv Ellis
What did you think? Comment on the plans on the forum
2nd July 2013