Over half who responded were against the proposed CPZ
Residents have rejected proposals for a controlled parking zone (CPZ) in the Fielding Primary School area.
The proposed CPZ would have covered the roads between Midhurst Road and Northfield Avenue from Leighton Road in the north to Graham Avenue and Wyndham Road in the south.
Residents who campaigned against the changes said if a new zone was introduced it would cost money, make roads even more congested and could ruin local trade.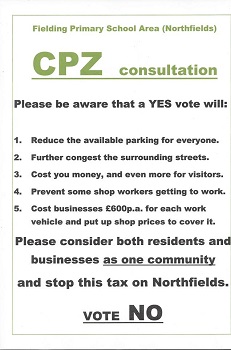 In a consultation conducted by Ealing Council 502 responses were received from residents in the area of which 308 (61%) said they did not want a CPZ.
Residents in 2 areas to the north and east of the core zone, which do not currently have controlled parking, were also consulted and asked whether they would like their road to be included in the proposed new CPZ. The majority of responses from these areas were also against the CPZ.
Paul Conlan, local councillor for Walpole ward, said: "A CPZ is only introduced after residents have been consulted and a clear majority of those responding want one in their area. That is obviously not the case here. Although many residents were in favour of the CPZ a majority in all 3 areas consulted were opposed and as a result the proposals will not be implemented."
A possible CPZ in the Little Ealing area (including Darwin,Carlyle and Murray Roads) will be discussed at the ward forum meeting this week.
23rd June 2014