Neighbours with opposing views on CPZ
Residents against a new Controlled Parking Zone (CPZ) in Ealing are urging their neighbours to vote no.
They say if a new zone is introduced it will cost money, make roads even more congested and could ruin local trade.
Following a petition the Council has begun a consultation in the area known as Fielding Primary School.
The core area (dark purple on map below) covers from Midhurst Road to Northfields Avenue and a number of other residential roads including Leighton, Hessel, Balfour, Northfield, Salisbury, Mayfield, Claygate Graham Ave, Wyndham Avenue.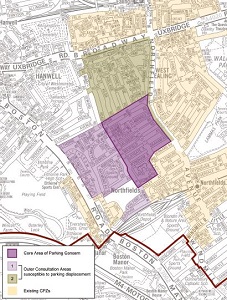 Ealing Council has acknowledged that areas surrounding the core may bear the brunt of displaced parking so are also consulting residents in those areas as well.
Kathy Hawes lives on the very narrow Northfield Road, which is within the core area. She says if the CPZ goes ahead a yellow line will be painted on the road and they will lose 50% of their current parking.
'' This will lead to 30 houses with absolutely NO street parking at all and nine new flats without parking in addition to that.
''The consultation papers made NO mention of this, we have only just found this out through calling to enquire what would happen on our unusual road.
''The CPZ would only allow for proper on street parking on one side, which is the problem. We do not want it here, it will actually create worse parking problems in the surrounding roads if it comes in.
'' We are also concerned re the safety aspect as if cars are parked 'fully on the road' on one side and someone parks illegally on the other, emergency vehicles can't get through.''
Traders on Northfields Avenue are also against the CPZ as it would mean they would have to buy a permit costing £600 pa which many say they cannot afford.
However, those in favour of the CPZ say they have been badly impacted by other parking zones. They believe it's needed to prevent all day commuter or airport parking, it will ease the current pressure and free up more space for residents.
An exhibition will be held this Sunday:
Exhibition details: Sunday 30 March 2014 – 11am to 4pm
Northfield Community Centre, Northcroft Road, W13 9SS
The consultation closes on 18th April 2014.
Existing CPZ's currently cover around 25% of the borough. The only area without any form of CPZ is Northolt.
Current consultations:
W7 - Fielding Primary School CPZ : Consultation currently in progress. Currently estimate is the scheme being considered by cabinet in June.
W5 - Lilac Gardens (Ealing Common Ward): Consultation has concluded. Scheme is due to be considered by cabinet in April.
Meanwhile it's just been announced that the area known as Little Ealing (Darwin, Carlisle, Murray, Ealing Park Gardens..) will be consulted on a new CPZ in June.
27th March 2014