Attempt to monetise local group backfires and new group set up
A local Ealing Facebook group which had over 25,000 members has been closed down and a new one set up after an apparent 'takeover' and allegations of attempts to monetise it.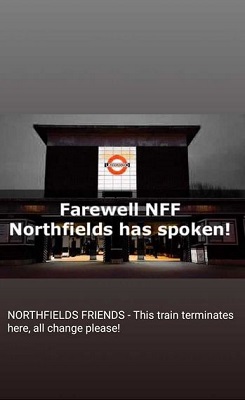 There was a huge outcry on the Northfield Friends (NFF) group after news that businessmen - from outside the area - had requested to 'buy' the rights which were handed over by the most recent administrator, Keith R Collins.
He told us: '' Over the last few weeks we were repeatedly contacted by the third party as to whether we had any more thoughts on the subject. After thinking long and hard we both wanted to relinquish admin responsibly as we no longer work or live in the area,and wanted to hand over the group who had experience of running groups and was obviously level headed.''
The new 'owners' proceeded to outline proposed changes which involved paying to be included in a trades directory and, as the platform has always been a popular, free community space, local anger grew. An initial campaign was launched to try and get the interlopers to leave however, when this failed to work the community began to take more direct action.
Over the space of several hours on Friday night ( 23rd November) dozens of newly appointed admininistrators began to delete members from the huge group and divert them to the newly formed Ealing and Northfields Friends group.
Liberal Democrat Counillor, Jon Ball, was involved and said the 'scorched earth policy' worked, he said: '' This is the best way to ensure that the dodgy people who have bought and sold it do not profit from their misdeeds. The community spirit of local people will not be defeated.''
Kathryn Coles who set-up the original group has been delighted with the response. She told us:

'' In some ways it is the best thing that could ever have happened, as our group is now back in the hands of those who live in and care about our local community. Without this takeover that may never have happened, so we are really looking on the bright side.
''It was an astonishing display of community spirit - clearly members were not happy with the way the new admins wanted to run things and voted with their feet. The group did not want to be managed by outsiders who were only interested in the group for profit and who wanted to charge people to use it.
''Members took matters into their own hands on Friday and began to dismantle the group - by the evening there was pretty much nothing left of Northfields Friends; however at the same time there was a new group that was (and still is) flourishing - Ealing & Northfields Friends.
'' We would encourage everyone with a connection to the area to join this as it is being run with exactly the same spirit as the old group, but embraces a wider area (all of Ealing, not just Northfields). 'Thanks so much to everyone who gave their support - hopefully this sends a clear message that we put our people before profits.''
Facebook have been asked for comment regarding the recent events but haven't replied.
26th November 2018