Funding drive for conversion of Greenford site proves successful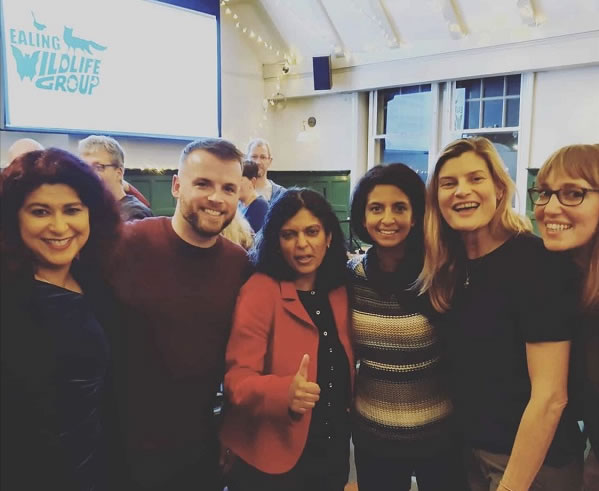 Ealing Wildlife group members with Rupa Huq MP earlier this year
The Ealing Wildlife Group's (EWG) plan to convert a disused allotment site in Greenford into a nature reserve has received a boost after launching a funding drive.
Their plan to turn a flood prone piece of land into the Costons Lane Nature Reserve has gained a significant number of donations. They especially wanted to thank Transform Your Space for donating £9,577, Greystar and Greenford Quay whose donation of £7,000 made up the remainder need to reach their target and ensure the project's success. In addition Andrew McRae and Gemma Holmes made extremely generous private donations of £500 each.
The group said they, "wanted to thank everyone who donated, from £1, £5, £10, £20, £50 or £100 it all helps tremendously and we couldn't be more thankful to you all and we couldn't have done it without every single one of you! We set up the funding drive to allow for over funding so it's not too late to donate. The over funding will go towards things like extra classroom equipment, bat boxes, bird boxes, native plants, classes and lectures, trail cams, a static bat detector, the possibilities are endless."
Nina Provencal, Events Manager for Greystar said: "Greenford Quay are delighted to be involved in this project, working with the local community and continually looking at ways to help bring communities together is a huge part of our agenda".
They hope to get the project started in midsummer and depending on the lockdown situation they would like to get people volunteering as soon as possible. This reserve is for everyone in Ealing Wildlife Group and they want people to come and be involved in its creation and evolution.
Theyplan to clear rubble, reinstate the pond, provide trails around the site. They'll encourage native plants, & manage for native wildlife. They want to install a storage area forr equipment and teaching facilities, bird feeders & houses, bat & bug homes, hedgehog homes, habitat features for frogs, toads, newts & reptiles such as slow worms.
They also plan to plant native and ornamental flowers to help pollinators and install log piles for rare stag beetles. They would like to install hides so people can come and observe the wildlife, take photos and learn about the wonders of the natural world.
They would also encourage citizen science by hosting bioblitzes as a chance for the community to help record species for organizations like Greenspace Information for Greater London, Bat Conservation Trust, London Wildlife Trust, RSPB. They could also host schools and scouts groups & have community open days.
Lifelong naturalist and Ealing resident Sean McCormack founded EWG in 2016 following the success of his popular 'bat walks'.
Two years later it was established as an official community group and has since grown from strength to strength. The group's bat walks have become a staple activity, with all bat data fed into the Bat Conservation Trust to put Ealing bats on the map (previously Ealing was one of the most under-recorded Boroughs in London for bats).

June 10, 2020