Patience has run out with current owners - new ones sought
They promised us that work would start on numerous occasions - and thanked Ealing residents for their patience.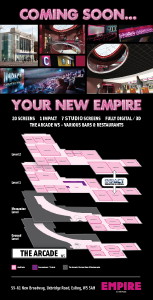 Empire said we would have a new 20 screen cinema by 2014, Ealing Civic Society even met to discuss the design elements and it all looked very hopeful.
However, 4 years after demolishing the old UGC cinema, a pile of rubble still remains and action is now being taken to move things on.
Ealing Council is inviting other developers to submit expressions of interest to acquire and develop the old cinema site.
The successful applicant will partner with the council to acquire the 1.9 acres of land with a compulsory purchase order (CPO) and construct a new cinema complex.
After entering into an agreement with the selected developer, the council will apply for a CPO, which would force Empire to transfer ownership of the land.
Councillor Julian Bell, leader of the council, said: ''We've given Empire more than enough time to begin construction and now it's too late; the land is 'for sale'. The disused site is an eyesore and we need to bring it back to life. The council is very keen to see this prominent town centre location developed and for the community to have the cinema we've all been waiting for.''
Registrations of interest are due to the council by 19 October. The selected developer would have to meet all costs associated with acquiring the land.

We are awaiting comment from Empire.
What do you think?
26th September 2012