Multiplex cinema, a film museum, bars restaurant and flats proposed
Ealing finally looks set to get back its cinema with the announcement today that the Council have chosen a partner to develop a two acre site in the centre of Ealing currently owned by Empire Cinema.
Land Securities will enact the Compulsory Purchase Order against Empire who failed to meet the Council's October deadline for starting work to redevelop the site.
The New Broadway site is to be developed into a 170,000 sq ft new entertainment and leisure scheme according to an item in Property Week magazine.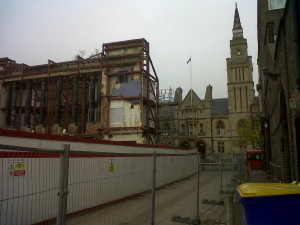 Derelict and neglected - but hopefully not for much longer
The initial proposals for The Film Quarter include a multiplex cinema and cafes, bars and restaurants linking New Broadway with Bond Street. A 'Cinema Square' will provide an event space with a giant video wall.
There will also be around 80 flats in the scheme, a film museum, art studios and an Arthouse Film & Dining experience.
Land Securities Development Director, Nick Davis, said "Land Securities has extensive experience in delivering and investing in the leisure sector and we're delighted with the council's decision to choose us as their development partner. We think Ealing has great potential and this 'cinema quarter' scheme will have a hugely positive effect on the town centre. We look forward to working with the council to ensure that a high quality leisure scheme is delivered which provides the long awaited cinema for the original home of the British film industry."
In addition to the Empire Cinema site the development will include the YMCA building on Bond Street which was bought by the Council in February 2011 and buildings occupied by the University of West London
December 20, 2012