Cultural centre project one option for vacant site
Ealing's neglected cinema site could become the hub of a new 'cultural centre' in a unique collaboration with Ealing Studios.
Since Empire was given its marching orders for failing to get on with developing the central location Ealing Council has shortlisted three new cinema developers.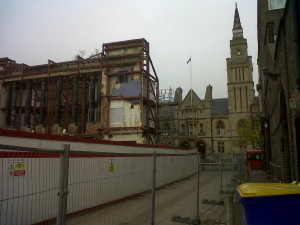 Land Securities, Salmon Harvester with Cineworld, and Wilson Bowden with Barratt are battling it out for the chance to become a joint venture development partner for the two-acre Ealing cinema site.
The developers' proposals include Imax wrap-around screens with the latest stereoscopic 3D digital projection technology. Luxury leather recliners with at-seat menus and chair-service at the touch of button could also be on offer.
Ealing Council is also exploring opportunities to collaborate with nearby Ealing Studios.
In addition to high profile blockbusters, some of the highest grossing independent British films have also been made at the studios. The plan is to capitalise on the additional market that a wider mix of films will bring.
Leader of Ealing Council, Councillor Julian Bell, said "I not only want to see Hollywood blockbusters being shown in Ealing again, but also a far broader mix of independent films and events that will attract people from all over London to Ealing. The innovative thinking of our three bidders means that visitors will enjoy the very best of a diverse cinema experience surrounded by the most advanced technology of the digital revolution."
The cinema site is a key redevelopment opportunity within the Ealing Metropolitan Town Centre. The council wishes to see a comprehensive mixed-use development with potential for cultural industries, art galleries and performance spaces, which will extend south from the cinema towards Ealing Studios and create a new 'cultural quarter' for Ealing.
Councillor Bell added: "Ealing helped define the British Film Industry. We'll soon be announcing which of our three bidders is going to help us put it back on the map, so when people think of film and cinema, they once again think of Ealing."

November 15, 2012