A eclectic programme in store for the eight consecutive year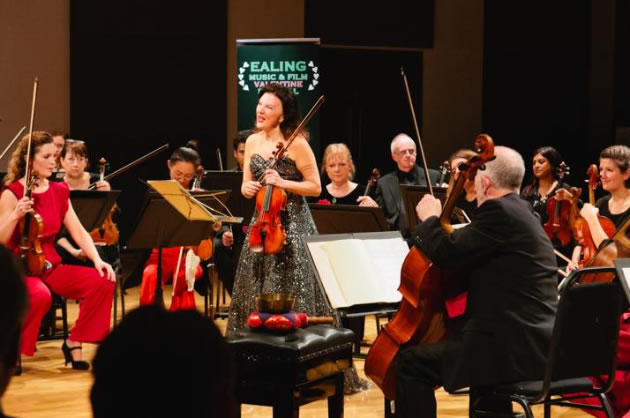 The Ealing Music & Film Festival (EMFF) is set to return in 2020.
Now in its eighth consecutive year, the festival will run from 12–16 February with an eclectic programme, from classical concerts, to opera by way of blues, jazz and soul, classic films, a play and workshops for budding musicians, future video stars and much more.
Ealing Music & Film Festival opens with the woodwind ensemble The Thorne Trio to perform a lunchtime concert at St Mary's Church, South Ealing.This award-winning wind group perform an array of music from popular composers from the Baroque period to the present day and lesser known works from British composers.
The afternoon brings something a little different, in an EMFF attendees will get the chance to experience the Headspace Project,taking place at 3pm at Rami Ranger Pavilion, the University of West London.
Produced by UWL's London College of Music (LCM) students, this immersive performance gives the audience headphones to listen to a range of musical work, from experimental soundscapes to commercial dance tracks.
The evening of 12 February brings a screening of Nino Oxilia's Faustian classic Rapsodia Satanica, (1915), a heady supernatural romance, starring era favourite actor Lydia Borelli. This seminal Italian silent movie is accompanied by Pietro Mascagni's only film score and the evening offers the rare opportunity to hear his work alongside alternative soundtracks composed by LCM students. It takes place at 7pm at Weston Hall, UWL, St Mary's Road.
On Thursday 13 February at 7:30pm at Weston Hall, UWL, St Mary's Road EMFF is once again thrilled to host award-winning choir, Tenebrae, under the direction of Nigel Short. One of the world's finest vocal ensembles, renowned for their passion and precision, they will present an evening of British music ranging from exquisite miniatures to complex masterpieces,marrying text and song. Shakespeare, Shelley, Byron, Tennyson and Milton are the inspiration for works from renowned composers such as Vaughan Williams, Elgar and Holst.
The evening will feature a performance of Parry's evocative Songs of Farewell.
The festival is excited to announce the inclusion of a play for the very first time.
UWL acting students present Enron, a thrilling show that charts the notorious rise and fall of the company and its founding partners Ken Lay and Jeffrey Skilling. Mixing classical tragedy with savage comedy and surreal metaphor, Enron follows a group of flawed men and women in a narrative of greed and loss set around the financial chaos of the 1990s. There will be three evening performances and a matinee at Lawrence Hall, UWL.
Director Paul Harvard will also present a talk on the production and its creative use of film and an original score by LCM Composition students.
On Valentine's Day evening at 7:30pm at St Barnabas' Church, Pitshanger Lane, the Ealing Youth Orchestra make a welcome return to the festival, delighting us with a programme of Sibelius' Finlandia, Rachmaninov's Symphony no. 2and Creston's Saxophone Concerto, featuring BBC Young Musician of the Year 2018 finalist, Rob Burton. The orchestra will once again play alongside the London Mozart Players, who they work alongside as part of the vital outreach work undertaken by the festival to help develop the next generation of performers from the region.
This years' film roster brings two cinematic classics on 14 February, in conjunction with Ealing Classic Cinema Club at Weston Hall, UWL, St Mary's Road.
Celebrate Valentine's Day with one of the greatest romantic films, the 1945 gem Brief Encounter, David Lean's heart-breaking tale of forbidden love, adapted for the screen by Noël Coward. Celia Johnson and Trevor Howard star as an English housewife and a married doctor who fall in love after meeting on a train platform.
Following the success of last year's Quadrophenia screening, lovers of 'local band' The Who,are again in for a treat with a screening of Ken Russell's Tommy (1975). Pete Townshend's songs tell the tale of a boy brainwashed by his mother into thinking he is deaf, blind and mute. He discovers he can feel vibrations well enough to become a pinball wizard.
Ealing Symphony Orchestra return on Saturday 15 February and continue the festival's romantic Valentine's nod to Rachmaninov, performing his operetta Francesca da Rimini, based on an excerpt from Dante's Inferno, and his symphonic poem Isle of the Dead, inspired by a black and white reproduction of Arnold Böcklin's painting of the same name. This takes place at 7:30pm at St Barnabas' Church, Pitshanger Lane, Ealing.This year the audience can participate too, in a number of workshops. The Percussion Workshop on 15 February at Weston Hall, UWL, offers attendees the chance to create their own musical masterwork.
A collaboration between Ealing Percussion Academy and London College of Music Percussion gives families the opportunity to spend the morning getting hands-on with the instruments, and will be followed by a performance from local percussion groups.
The Vlogging Workshop offers participants the chance to learn the basics of how to start Vlogging from scratch, plus developing and improving on-screen presenting skills. This is a fantastic opportunity for young people in the local area to build confidence and a basic understanding of this hugely popular activity.
The final day, Sunday 16th February,brings Opera Holland Park Un Ballo in Mascherato the big screen at William Barry Theatre, University of West London, St Mary's Road.The renowned opera company believes that everyone should have access to the finest live musical and theatrical performances, regardless of age, income or education.
Based on the story of Gustav III, the Swedish king who was murdered during a masked ball, it sets a tense love triangle against the background of a murderous conspiracy. The production is directed by Rodula Gaitanou and conducted by acclaimed local resident Matthew Kofi Waldren.
Other events to look out for, with more information soon include: The Ealing Club -Live Music Events LCM Junior College Music Technology Workshop Industry talk with Opera Holland Park's Director of Opera, James Clutton Love2Sing Choir Lunchtime Concert by LCM Classical Students Affinity String Quartet with Mezzo-Soprano Lotte Betts-Dean
Patrick Chapman, Chair of the Festival Trust said: "We are delighted to be working more closely with The University of West London and in particular to welcome Professor Nicholas McKay, Director of London College of Music as a new Trustee and our Festival Director. We are now able to broaden the scope of the Festival and increase our impact in Ealing.
"Professor Nicholas McKay, Director of LCM and Artistic Director of the festival, said:"The University of West London, with its constituent London College of Music and London School of Film, Media and Design, is delighted to be working in this closer strategic partnership with the Ealing Music and Film Festival. This is an exciting opportunity to showcase the breadth and depth of music and film talent here in Ealing, as we continue to help develop the next generation of talent through the Festival Trust's and university's charitable, outreach and widening participation activities in the local community."
For more information, the full programme and tickets for all events visit www.ealingmusicandfilmfestival.org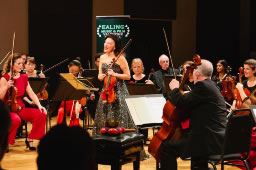 11 December 2019