Accident happened in West Ealing Sunday morning
A man in his 60s has been injured after being hit by an ambulance response vehicle on the Uxbridge Road (24th February).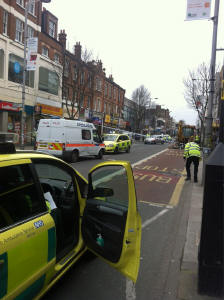 picture via twitter @ EireGunner Aaron Conlan
A London Ambulance Service spokesperson said:
'' We were called at 10.35am to Broadway, West Ealing, after one of our single responders in a car hit a pedestrian while on an emergency call.
''We sent two ambulance crews, two duty officers, a further single responder in a car and London's Air Ambulance to the scene.
''Our staff treated a man in his 60s for a head injury and took him to St Mary's Hospital as a priority. Our member of staff was not injured.""
24th February 2013