Impressions of Ealing's parliamentary count
It was always going to be a long night but when night stretched into morning and Ealing's declarations still hadn't been made, candidates, supporters and the rest of us began to wilt.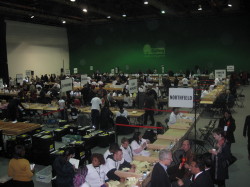 Once results were finally announced (7.35am) energy slowly began to be restored.
Popular Ealing North Labour MP Steve Pound rallied the audience with his theatrical acceptance speech. He said:
''Outside the sun has risen, the birds are singing, there is a world out there. We will maintain financial stability and a hung parliament beckons a new experience for all of us.
'' But for tonight, I will stop speaking and would like to thank you all, now go home, have a good breakfast and remember that the people spoke in Ealing North and for that, I thank you."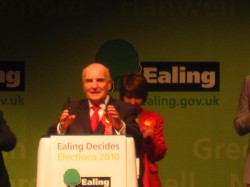 In Ealing Southall, Labour also held the seat and Virendra Sharma said:
"I feel great, it was a wonderful victory it shows that the people of Southall have spoken and given a clear message that this constituency does not accept the sectarian approach. They support the unity and equality in communities and I will continue working for them in society as a whole."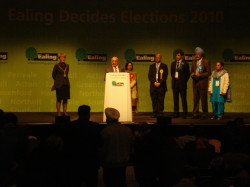 Ealing Southall has been the scene of an acrimonious fight between Sharma and Conservative challenger Gurcharan Singh. Sharma's acceptance speech was met with cries of 'Shame on You!' when he referred to this.
The surprise of the night was from the hotly contested new seat of Ealing Central and Acton. Angie Bray was victorious for the Conservatives, but chose to show humility in her speech.
She thanked her supporters, helpers, voters and opponents who she said had run 'a decent and fair campaign.'
She closed Ealing's longest night by vowing to be a servant to the people of Ealing and Acton.
May 7th, 2010