Who will be your next MP?
So, after the long wait, the date's finally been set. On May 6th we go to the polls to vote for both local and parliamentary representatives
Ealing has 3 seats up for grabs - nationally all eyes will be on the new one of Ealing Central and Acton.
Ealing Central and Acton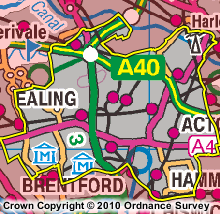 This new seat succeeds Ealing, Acton and Shepherd's Bush. With significant boundary changes, Ealing Central and Acton will also inherit the east of the Ealing Southall constituency.
Labour took Ealing, Acton and Shepherd's Bush in 1997 and held it in 2001 with the current MP, Andrew Slaughter, being elected for Labour in 2005.
Candidates are: Jon Ball: Liberal Democrat, Angie Bray: Conservative, Tim Carpenter: Libertarian, Sarah Edwards: Green , Bassam Mahfouz: Labour
This is Conservative target seat number 18 and Liberal Democrat target seat number 10
Ealing North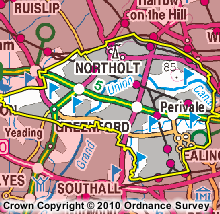 Ealing North was Labour from 1964 until 1979, when it became Conservative and remained so for four successive governments. In 1997, Stephen Pound MP won the seat for Labour by a majority of more than 9,000. He held onto it in 2001 and 2005, although with a reduced majority.
Boundary changes mean the seat has gained part of Greenford from Ealing Southall and lost large parts of Ealing Broadway and Hangar Hill wards to the new seat of Ealing Central and Acton.
Candidates are Ian Gibb: Conservative, Chris Lucas: Liberal Democrats, Stephen Pound: Labour Christopher Warleigh-Lack: Green
Ealing Southall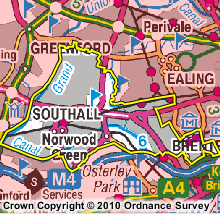 Labour MPs have represented the area for more than 50 years. In 1992, Piara Khabra became the first Asian MP to represent the community, and held onto the seat until his death in June 2007. In the by-election the following month, Virendra Sharma retained the seat for Labour, though with a majority reduced by 14%. Boundary changes have moved Ealing Broadway, Walpole, and Ealing Common wards to the new Ealing Central and Acton seat, while Hobbayne and Greenford Broadway wards are now within Ealing North's boundaries.
Candidates are Nigel Bakhai: Liberal Democrats, Suni Basu: Green, Sati Chaggar: English Democrats, Virendra Sharma: Labour, Gurcharan Singh: Conservative
[Images produced from the Ordnance Survey electionmap service. Images reproduced with permission of Ordnance Survey and Land and Property Services ]
April 7th, 2010