Join the team for an evening with Run-Fast's Tom Payn
Taking part in the Ealing Half Marathon? Come and hear how the running elite manage to do it in super quick time.
Organisers have announced an evening with elite athlete manager Tom Payn, taking place at 7.30 pm on Wednesday 25th September at The New Inn in South Ealing.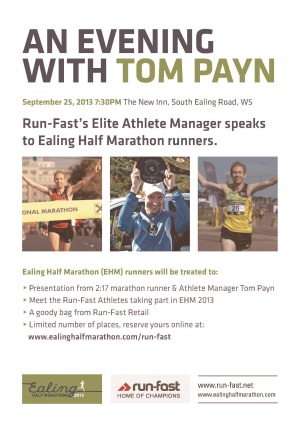 Tom Payn has managed a 2.17 time for a full marathon (wow!)
Tom Payn will provide an insight into the life of an elite athlete as well as useful tips for runners of all levels who are signed up to the Ealing Half Marathon.
The evening is free with everyone receiving a goody bag from Run-Fast. Places are limited and runners need to book their place online at www.ealinghalfmarathon.com/run-fast .
Elite athletes entered into the Ealing Half Marathon include Run-Fast's Matthew Kiprotich Kimutai whose running achievements include 2nd place at the Bath Half Marathon 2013, winner of the Cardiff 10K and winner of the Nairobi Half Marathon in 2012. Josphat Kiprop, 10K Bronze medalist in the African Junior Championships, is another contender for the winning title.
Other names in the elite running field include Darren McNeely (Serpentine/Finn Valley/Elmbridge), Robert Wilson (Ealing, Southall & Middlesex AC), Tim Haughian (Windsor, Slough, Eton & Hounslow AC) as well as Rebecca Moore (Worthing & District Harriers/Cambridge Uni), Amy Cope-Balchin (Serpentine AC & Ealing Eagles) and Katy Webster (London Heathside Runners AC) in the women's field.
Last year's winners, Jonathan Stead from Herne Hill Harriers and Gabriel Carnwath from Altrincham & District will also be taking part again.
The winners are estimated to complete the 13.1 mile course in 62 minutes and will provide an exciting spectacle to watch for residents and supporters.
The 2nd Ealing Half Marathon takes place on Sunday 29th September 2013 and entry is just about still open - but closing very soon. Anyone wishing to take part should go to www.ealinghalfmarathon.com to sign up and secure their place as soon as possible.
Runners and supporters can also like the Facebook page www.facebook.com/ealinghalf and follow @EalingHalf on Twitter to keep up to date with all the latest news about the Ealing Half Marathon.
17th September 2013