Officers attempting to identify man found on Piccadilly line tracks
Related Links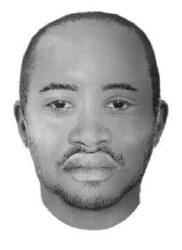 e-fit image of man whose body was found on tracks of Piccadilly line
Participate
Sign up for our free newsletter
Comment on this story on the
Police have taken the unusual step of releasing an e-fit image of a man whose naked body was found on the tracks of the Piccadily line.
The body was discovered by a member of tube staff in the early hours of the morning last Tuesday between Osterley and Boston Manor stations.
His injuries suggested he had been hit by a train.
British Transport Police Inspector Ian Baker said: "We've made extensive enquiries to establish his identity but unfortunately we have so far been unable to do so.
"It's rare that we release an e-fit image of someone in these circumstances but it's very important that we identify him and contact his family to let them know what has happened.
"Our forensic artist created an e-fit and we are releasing it in the hope that that someone may recognise him, even if they don't know him well, and come forward to us with information that could help us identify him and inform his family as soon as possible.
"The fact that he was found naked is very unusual and it's vital that we work out who this man is and piece together his movements before his death."
The man is described as black, between 5'7" and 5,9" tall with a large build. He is thought to be between 25 and 35 years of age and has a shaved head.
DI Baker said: "We would also like to speak to anyone who may have seen a man matching this description in the area around Osterley station from about 1am Tuesday morning.
Anyone with information please call British Transport Police on 0800 40 50 40 quoting incident 42 of 6/7/10.

14 July 2010