Two day screening planned for end of June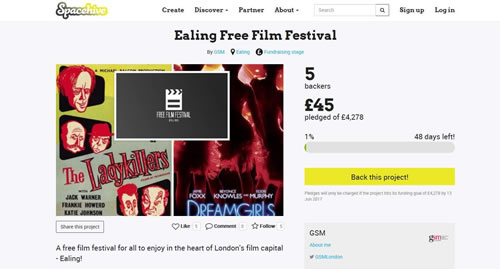 A college tutor is hoping for local support to set up a free film festival in Ealing this summer.
Hope Flynn, a Teaching Fellow in the Marketing, Events and Travel & Tourism department at GSM London, which has a campus in Greenford is aiming to raise £4,100 via Spacehive and is looking for donations and support to launch the Ealing Free Film Festival (EFFF) this summer.
"Free films are a great way to engage the local community and we aim to build connections and nurture partnerships with local businesses and individuals," said Hope. "The initiative provides opportunities for students to develop volunteering, marketing and social media skills, which can contribute to Horizon award points, boost their skillset and enhance their CVs."
The two-day event will kick off on Friday 30 June. Screenings will include Ealing Studios comedy 'The Ladykillers' (1955) , and the iconic US musical 'Dreamgirls'.
Hope has now secured a licence to screen the films and aims to make EFFF an annual event.
As well as being runner up in the Miss London beauty pageant in 2015, she also competed in the Miss England in the same year. During the competition, she raised money for charity Beauty with Purpose, which supports local and international organisations in aid of disadvantaged children all over the world.
To learn more about the EFFF initiative and to donate, click here and follow via Twitter @Ealing_FFF
3 May 2017