A new and bigger convoy than last time has now set up camp
A convoy of travellers has arrived on Ealing Common - months after a lengthy legal battle to remove a previous encampment.
The group started appearing last week and locals say there are now at least 25 caravans on site.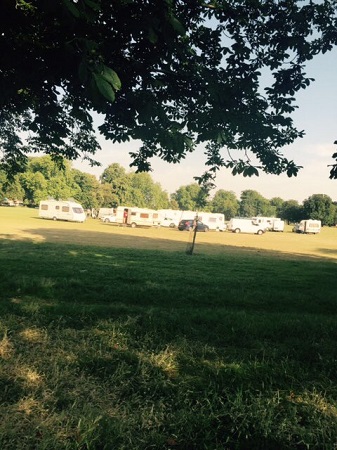 (pic J Dabrowska)
It's believed they are part of a group which had been based on Norwood Green causing local unhappiness and resulting in the cancellation of the annual village day due to take place there.
It took Ealing Council several months of legal wranglings before they were able to evict the previous family group which had been camped on Ealing Common. The travellers then proceeded to set up camp across the road until they were evicted again.
Some locals have suggested the only way to prevent this occurring would be to remove the 'common' status and gate it off like a park - to prevent further occurrences.
Ealing Common ward representatives have reported the matter and Councillor Joanna Dabrowska said:
''Once again Ealing Common has been blighted with a traveller encampment. The previous traveller group has a borough-wide injunction in place whilst these new arrivals moved from the Norwood Green area before being formally evicted. Many fed up residents have been in touch reporting hazardous driving across the common as well as fly tipping. I have been liaising with Environment Enforcement and Parks directors to ensure 'our current visitors' are appropriately and swiftly moved along.''
An Ealing Council spokesperson said:
'' This is a different group of travellers to the one that camped on the common earlier this year so the previous court injunction does not apply. As soon as we were aware that travellers had set up camp we took action and visited the site to begin the checks and assessments we are legally obliged to carry out. These are now complete and we are now taking the next steps to resolve this situation.
''We have an official site in the borough specifically for travellers and Ealing Common is not suitable for a camp of this type. We are now looking at longer-term options for preventing this kind of encampment in the future.''
21 July 2016 (updated)