Calls for 'suicide prevention' phones to be installed
An Ealing Councillor has launched a campaign to install 'suicideprevention' phones at Ealing Broadway Station.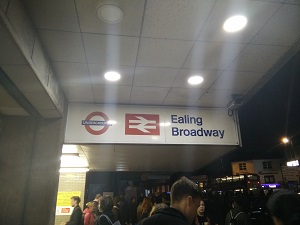 Cllr Alex Stafford who represents the Ealing Broadway ward, has written to the Samaritans, Great Western Railway, and Network Rail, asking them to work together to help save lives.
Last year there were four fatalities at the station. Nationally, suicides on the railway account for approximately 6% of all recorded suicides, however, in Ealing, suicides on the railway account for 20%.
The free-to-use phones which connect directly to support organisations, are currently used in parts of America, and since their introduction it's reported the suicide on Sunshine Bridge in Florida has reduce by a quarter.
In his letter Councillor Stafford says: ''Everything and anything should be done to try and arrest this worrying increase. Installing these phones would be a simple and inexpensive way of preventing tragedies and could ultimately save lives. Even if only one life is saved, this would be more than worth it.
''There are already several Samaritans signs with phone numbers displayed at Ealing Broadway Station, but I am calling on you to go one significant step further and work with Great Western Railway, the managers of Ealing Broadway Station, as well as Network Rail, to install suicide prevention phones - a direct and free phone link to the Samaritans so that anyone in need has access to a fast and efficient support line.''
''With the current on-going works upgrading the station for Crossrail, it is the perfect time to install these phones and stop the senseless loss of life at one of London's most congested stations.''
19 January 2016