British Land become the sole owners
Ealing Broadway Shopping Centre is now in the hands of one single owner - the first time in 30 years.
British Land - a real estate investment trust - who own Meadowhall in Sheffield - has announced that it's bought the Crystal House Block for £28.8 million, from a Northern Irish private investor.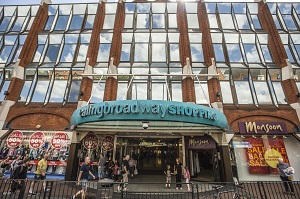 The block is at the front and one of three entrances to Ealing Broadway Shopping Centre, it has key retail tenants including The Body Shop, Monsoon, The Perfume Shop and Ernest Jones.
The company bought the rest of the shopping centre in February 2013 from Dutch fund managers, Wereldhave, for £142.5 million pounds.
Charles Maudsley, Head of Retail for British Land, said:
"The acquisition of the front section of Ealing Broadway Shopping Centre unlocks significant opportunities to grow and develop the entire centre by continuing to improve the retail mix and increasing the leisure offer. Ealing Broadway continues to improve as the area benefits from residential development and the completion of Crossrail."
The press release announcing the news describes Ealing:
'' Ealing Broadway is an attractive convenient shopping destination in West London, well located in the centre of Ealing and close to the train and tube station. It dominates the retail offer in the town centre and has an annual footfall of around 15 million.
''It has an affluent catchment of 1.6 million people, with over a third in the key retail spending group of 25-44 year olds. Looking forward, the scheme is expected to benefit from significant levels of development in Ealing, including a new leisure scheme, the Dickens Yard residential quarter and Crossrail. Crossrail, which completes in 2018, will lead to shorter journey times from Heathrow (13 minutes), Liverpool Street (19 minutes) and Canary Wharf (26 minutes).''
Would you like to see any changes at Ealing Broadway Shopping Centre? Discuss on the forum.
20th November 2013