Crossrail submit proposals for major improvement work
Related Links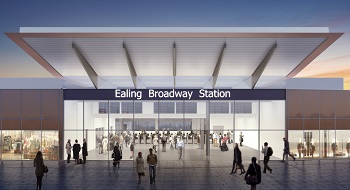 Glass fronted entrance to the proposed new look Ealing Broadway Station.
Participate
Sign up for our free newsletter
Comment on this story on the
Crossrail has finally submitted plans for the future development of Ealing Broadway Station.
Step free access, a new entrance hall and a glass fronted facade are just a few of the new design features.
The proposed plans, which have been submitted to Ealing Council, would replace the existing cramped entrance and ticket hall with a new glass structure that would let in much more natural light and be 'significantly more spacious'.
In addition, new lifts and staircases will make it easier for passengers to get around the station.
The proposed improvements include:
· Major changes to the front of the station, replacing the current dated façade with a new glass structure;
· A new entrance, twice the size of the existing one, leading to a significantly more spacious and brighter ticket hall with a larger gateline;
· New lifts to provide step free access from street level to all platforms;
· Redesigned staircases for platforms 1 and 2/3;
· Redesigned waiting facilities at platform level;
· Platform extensions for the new high capacity ten car Crossrail trains; and
· New information screens and communications systems.
When Crossrail fully opens in 2019, up to ten services an hour in each direction will serve Ealing Broadway, allowing passengers to get to a range of destinations more quickly and easily. The journey to Bond Street will be 11 minutes quicker and passengers travelling to Canary Wharf will be able to reduce their journey time by 18 minutes. The station will also be an interchange with the District and Central line on the Underground as well as National Rail services.
When the work will take place
End of 2013 / early 2014: London Borough of Ealing to carry out works on station forecourt
October 2015: station works start. The work is expected to last around 14 months, the station will remain open during works.

Matt White, Surface Director at Crossrail said: "We believe that our proposals will significantly improve the station, providing a bright spacious entrance and making it easier for passengers to get from the ticket hall level down to the platforms.
"Crossrail will provide a step change in public transport for people in Ealing. Brand new trains will take passengers right through the centre of the capital, reducing journey times and making it quicker and easier for them to get to a whole range of destinations across London and the South East."
Rob McIntosh, Network Rail's Crossrail Programme Director said: "We have worked closely with the Council and First Great Western, who currently run the station, to ensure our plans are right for passengers. The station improvements will make a huge difference to the users of the station and the local community."
A report commissioned last year by Crossrail predicted that, by 2021, property values around Ealing Broadway station can expect to have increased by 27 per cent above the average rise for the London Borough of Ealing.
What do you think? Discuss on the forum.
26th November 2013