Year long refurbishment has made it more accessible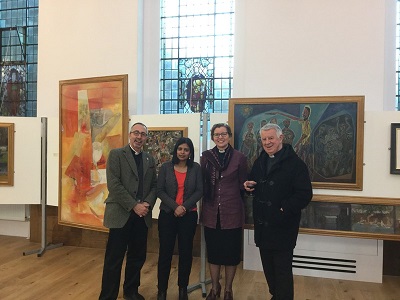 A year long refurbishment project to make one of Ealing's most central churches more accessible is finally complete.
Members of Ealing Green Church, the Mayor of Ealing, Cllr Harbhajan Kaur Dheer and Rupa Huq MP marked the occasion at a celebration. Special services also took place throughout the weekend for the congregation who had been worshipping in temporary accommodation behind the main building.
The church combines both Methodist & United Reformed Church and is used throughout the week by several groups and organisations including the local Multiple Sclerosis group, Ealing Symphony Orchestra, the Ealing Choral Society, AA, as well as for Associated Board Music Exams.
The project has made the building accessible to all, including people with disabilities, people using wheelchairs or mobility scooters, and parents and carers with children in buggies. The church's glass porch has been removed and damaged parts of the building's stonework have been repaired. A ramp to the entrance has been built and safety rails and a balustrade installed. The area around the entrance has been landscaped and benches, lighting and new paving and steps have been put in place. Trees have then been planted and the area laid with gravel in lattice beds, ready for alpine planting. Separately, the interior of the church has also been renovated.
An exhibition of the Methodist Modern Art Collection, has also opened and will run from 9 April 2016 to 22 May 2016. Entry is free and the works can be seen on Tuesdays 2.00pm-6.00pm, Thursdays 2.00pm – 6.00pm, and Saturdays 2.00pm-4.00pm (except 16 April 2016
The Reverend Dr Jennifer Smith said: ''We are so glad the work is now complete. Our church is now an affordable, accessible space for arts and performance. This work means we can now also serve more vulnerable groups in our community.''
Rupa Huq MP said : ''The church occupies such a prominent spot in Ealing that it was great to see the opening ceremony supported by clergy from other churches including Father Andrew from St Saviours locally in addition to those from as far afield as Notting Hill and Hayes. It's a bright and airy space now – great to see it come on leaps and bounds since the green plastic on the front and scaffolding covering it for quite some time. The art exhibition is really fascinating and a good trip out for people of all faiths and none.''
Mr Chris Humphries of the church says, ''The improvements have opened up this wonderful building and created a space that groups and organisations can access, use and enjoy in comfort.''
12th April 2016