This might be last local screening of Suburban Steps to Rockland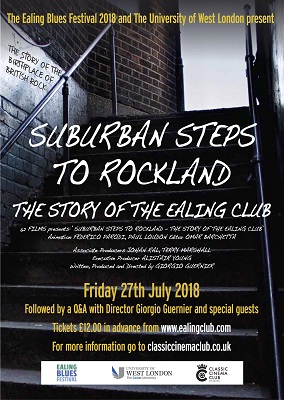 Suburban Steps To Rockland – The Story of The Ealing Club is a feature-film documentary that revolves around the story of the Ealing Club, a venue recently defined by the prestigious Mojo Magazine as 'The Cradle of British Rock' thanks to its role in creating a new musical movement whose participants continue to influence the sound of contemporary music.
On the 17 March 1962 the Ealing Jazz Club, commonly known as the Ealing Club, was advertised in the UK music press as Britain's first Rhythm and Blues venue. The list of influential musicians that would become associated with the club is breathtaking and it became the launch pad for the careers of a golden generation of British rock musicians.
Members of the Rolling Stones, The Who, Cream, Jimi Hendrix Experience, Fleetwood Mac, The Animals, Manfred Mann (and so many more) were closely involved with this early music scene that would influence the sound of Rock 'n' Roll for years to come. It is no coincidence that Marshall Amplification a brand synonymous with 'Classic Rock' emerged from the streets of Hanwell (Ealing Borough) with the help and buzz from surrounding venues.
The film features video footage, interviews, photographs and animated sequences documenting the beginnings of a seminal period of British rock history; a time just before the height of the swinging sixties. Interviews include the likes of Ginger Baker, Jack Bruce, Eric Burdon, Paul Jones and many more.
Visitors from as far away as Hamburg are already booked to arrive in Ealing for the event held at the same location that schooled the likes of Pete Townshend and Freddie Mercury in their Art College days. Music fans will gain additional insight though the Q & A session featuring Terry Marshall (Marshall Amps) author Harry Shapiro and Director Giorgio Guernier.
This screening may be the last in Ealing for the near future while efforts continue to extend the music licensing agreements that will assure a global release.
Friday 27 July 2018
Time: 8pm
Location: Weston Hall, St Mary's Road, University of West London
Film Screening: 90 minutes + Q & A
Get your tickets here.
July 26, 2018