Claims that station is becoming unsafe and calls for action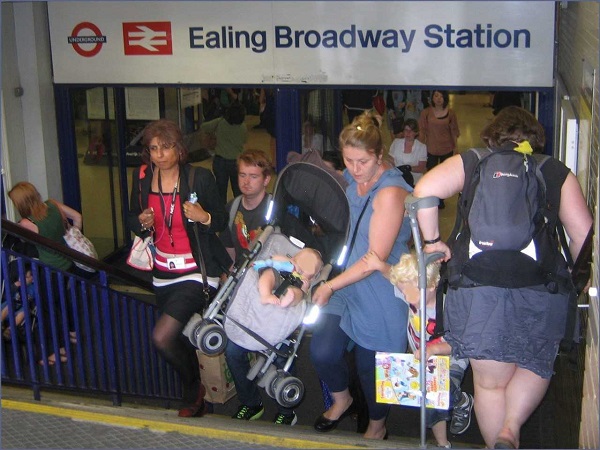 Ealing Broadway station is becoming unsafe for the travelling public according to a local neighbourhood forum.
As passenger numbers increase delays to the rebuilding of the station and commuter access will pose unacceptable risks say the Central Ealing Neighbourhood Forum (CENF).

Tony Miller, Chair of the Forum, says that the threat of yet further hold-up on the station could even mean that Elizabeth Line services to Heathrow – now scheduled for December 2019 – will be running before vital work on passenger access is finished. Ealing Council has already warned that improvements to the public area outside cannot be completed until after the building itself is ready.
He says: "We have been saying for years that the present entrance is dangerous, particularly for the disabled, those with luggage or with children in buggies. Since 2011, just before the above picture below was taken showing the stairs to street level, the number of people passing through the sole entrance each year has risen by 700,000. Yet despite promises to accelerate the work, no improvement has been made to what even then was a risky and unacceptable situation.
''The excuse for the new delay to the start of services from Crossrail is that there is a need for more testing time. This is not relevant to building stations as no new technology is involved.
"We cannot accept a continuation of the present situation, which presents a serious risk of injury or worse to passengers, for which Network Rail will be clearly responsible, we need an immediate clear, unequivocal and irreversible commitment from the very top to start work without more procrastination."
A Network Rail spokesperson said: "We remain committed to delivering ticket halls that meet the needs of passengers. In December 2017 Network Rail began work on the foundations for the lifts, footbridge and ticket hall at Ealing Broadway and this work continues as planned."
September 5 2018 ( updated 6th)