Traditional Ealing Eagles Christmas run raising funds for local charity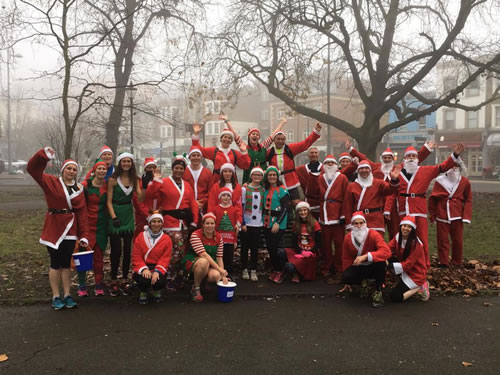 On Saturday morning (17th December) the residents of Ealing were treated to the now traditional Christmas sight of members of Ealing Eagles Running Club, all dressed as Santa and his little helpers, making their way from Gunnersbury Park to the Ealing Broadway Centre on the club's annual charity Santa Run.
Stopping for a Christmas sing-along in the Centre's festive market, the club were raising money for the Ealing Churches Winter Night Shelters, which help to provide local homeless people with a safe place to sleep and a hot meal over the Christmas period. Despite the murky weather, the event raised £500 for the charity. Angela Duff, the Eagles' PR and Marketing Secretary, said 'We are delighted to have been raising money for the Winter Night Shelters again. It's such an important cause and we'd like to thank the people of Ealing for supporting the running club's fundraising efforts for another year'.
In further charity efforts, the Ealing Eagles have also collected an impressive number of spare pairs of running shoes from club members, which will be donated to the Ealing Soup Kitchen at St John's church. Foot health is a particular problem for homeless people, who are more at risk of foot infections and more serious issues and complications. A good pair of shoes can make a huge difference to someone in need, and local homeless charities are always looking for donations to keep people's feet warm and dry.
19th December 2016