Local runners delighted with summer success
Related Links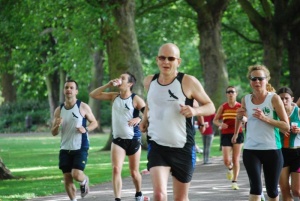 From left, Kieran Santry, Ronan Moriarty and Godfrey Rust.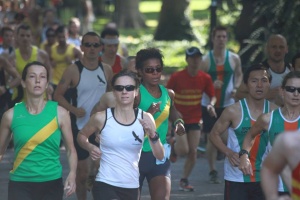 Jen Watt (in the shades), Eagles top performer
Participate
Sign up for our free Ealing newsletter
Comment on this story on the

Ealing Eagles topped the points totals at the final summer league fixture at Battersea Park to secure a surprise second place overall.
Strong performances throughout the squad – coupled with a huge points haul from the young "tenderfoots" – allowed the Eagles to improve massively on last year's fifth place in their debut season.
Team captain Lisa Emerson said: "We were already delighted to be in with a chance of securing third but to finish second overall was really something for our young club."
The fixture, hosted by Serpentine, was played out over 10k, rather than its usual five miles and Jennifer Watt was the Eagles' star on the flat course, coming home ninth lady to secure second place overall in the over 40s category.
Tracee Kean (22nd, 45.44) and Sarah Lamb-Hughes (27th, 46.53) also performed well, while Sue Park came home 30th in 47.38 to clinch second spot overall in the over 50s section.
Piers Keenleyside held on to second place in the overall men's over 55s section, despite being unable to make the Battersea race. Tom Rowles and Jose Manuel Pabon were also absentees but were the Eagles' highest points scorers overall.
On the day, it was left to Sergio Martinez-Gonzalez to bring home the Eagles men in 37.28 for 19th place. There were also strong performances from Chris Lambert (22nd, 37.37) and Rachid Afouzar (24th, 38.26).
But it was strength throughout the team that helped the Eagles secure the points for second place and club chairman Andy McFarlane said the club's coaches should take much of the credit for the improvement.
"We've stepped up our coaching provision with extra sessions this year and it's really showed. Many of our athletes have seen their personal best times tumble over the summer, and that's thanks to the work put in by Richard Tuson, Kelvin Walker, Martin White and Nanda Griffioen. They can be very proud.
"Our team captain Lisa Emerson has also worked tremendously hard in making sure we got as strong a team as possible to events and she deserves our thanks. No doubt she's already got her eye on further improvements next year."
Nine clubs takes part in Summer League, over five fixtures of either 10k or five miles, accruing points related to position, age and relay placings.
The final reckoning also brought age-category podium spots for tenderfoots Ken Houghton, Ryan and Michael Moran, Christopher and Frankie Snell, Tom and Pascale Kerley, Dominic Quinn, Adam and Amina Bennerbi, Marin Bentaleb and Emily Page

Text here.

September 19, 2013